Although we are primarily a home window film installation company we also have no problems at all installing window film on commercial properties, including schools.
We were approached by a school in Cheltenham in Gloucestershire to carry out some work on a newly constructed classroom block. Our client wanted some staff office windows, plus some classroom windows tinting with heat reduction window film. Almost all of the windows they required installation on were facing the sun for pretty much the entire duration of regular teaching hours.
Practical.
Installing heat reduction film on windows in a school makes a lot of sense. Many of us will be aware of how warm and stuffy classrooms used to get during our own time at school. Modern window film is of an excellent quality and there are a plethora of options available. That also includes various tint shades, including bronze, silver, gold, red, purple, grey, green, and even pink! The most popular shade we fit is silver. This is because silver tends to go very well against most exterior finishes.
Our client opted for the silver finish, namely Dark Reflective Silver 20 Window Film. This is excellent for both heat reduction, glare reduction and UV filtering. There is a metalized layer inside the film that gives it a mirrored appearance so it also comes with the added bonus of privacy.
This will certainly help to keep temperatures down, and even if the classroom is air conditioned this will mean that the ac unit will not have to work nowhere near as hard, and with the insane cost of energy these days that is a massive bonus.
The staff office.
Here we will take you through the installation from beginning to end, starting with the staff office.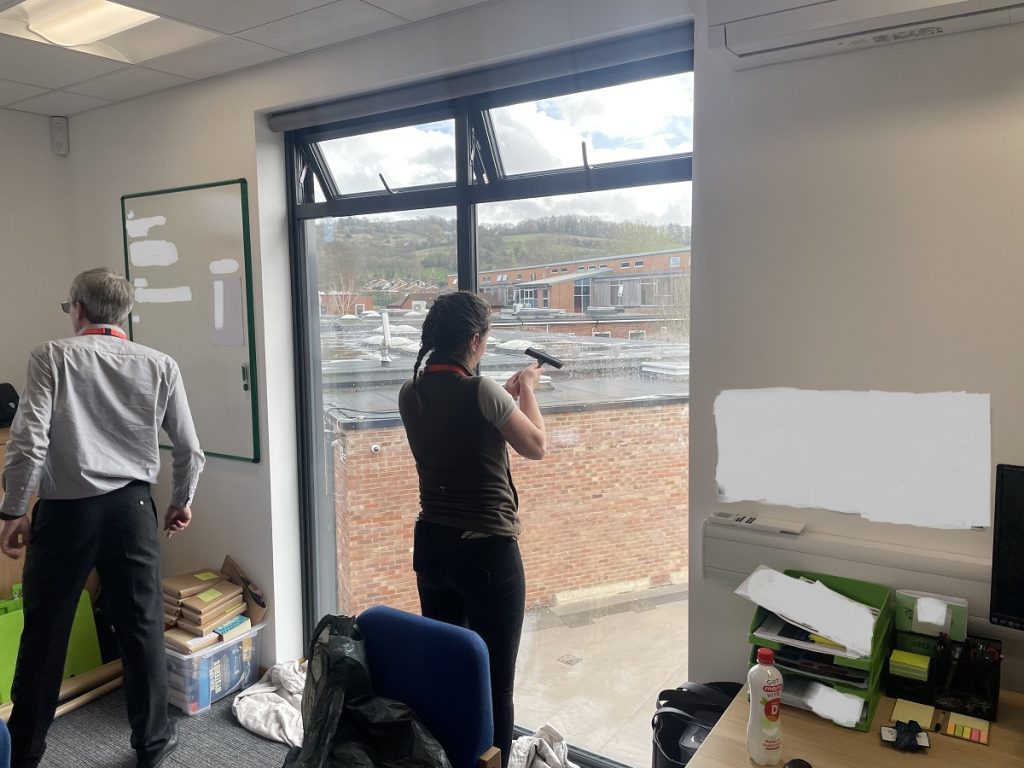 This was a six-windowed office with three very large panes and three smaller windows. First off the windows need to be prepared thoroughly. It is amazing what contaminants you can get off of an apparently clean window.
Once we were happy with the cleanliness of the windows we added tint to the right hand side windows as can be seen below.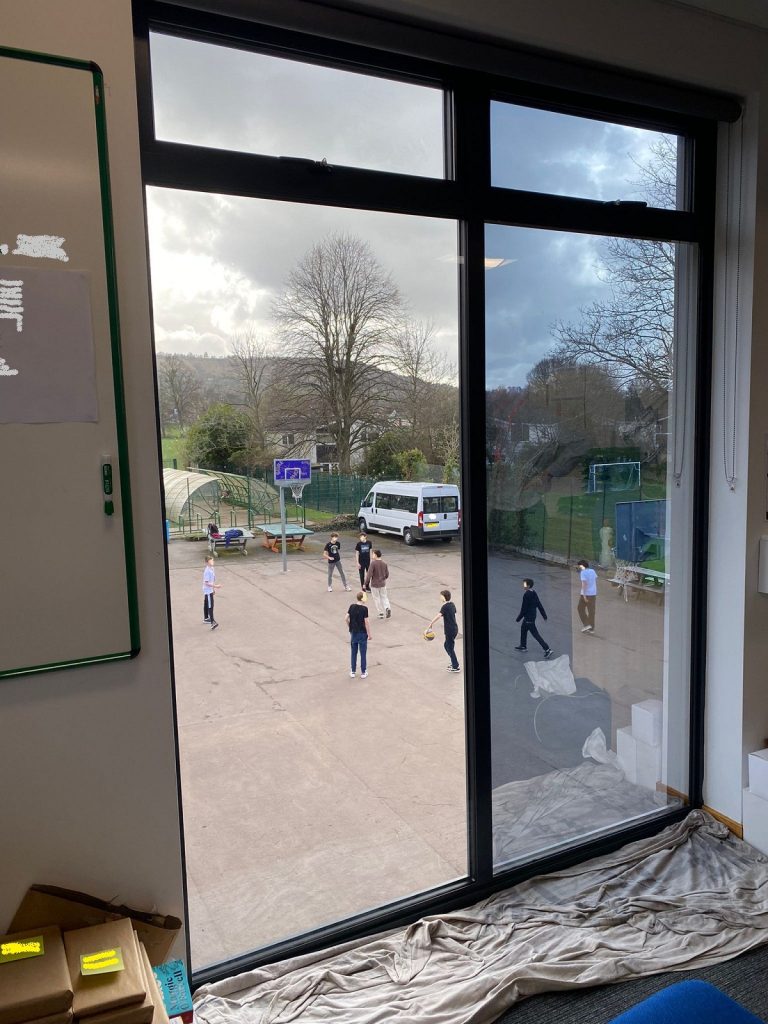 Even though it wasn't particularly warm outside it was still pretty warm inside the office so we could already see that this was going to make a huge difference for the teaching staff in this office when the temperatures start rising.
Then it was on to the other side and a member of the Cheltenham Home Tinting can be seen carefully applying the film to the window.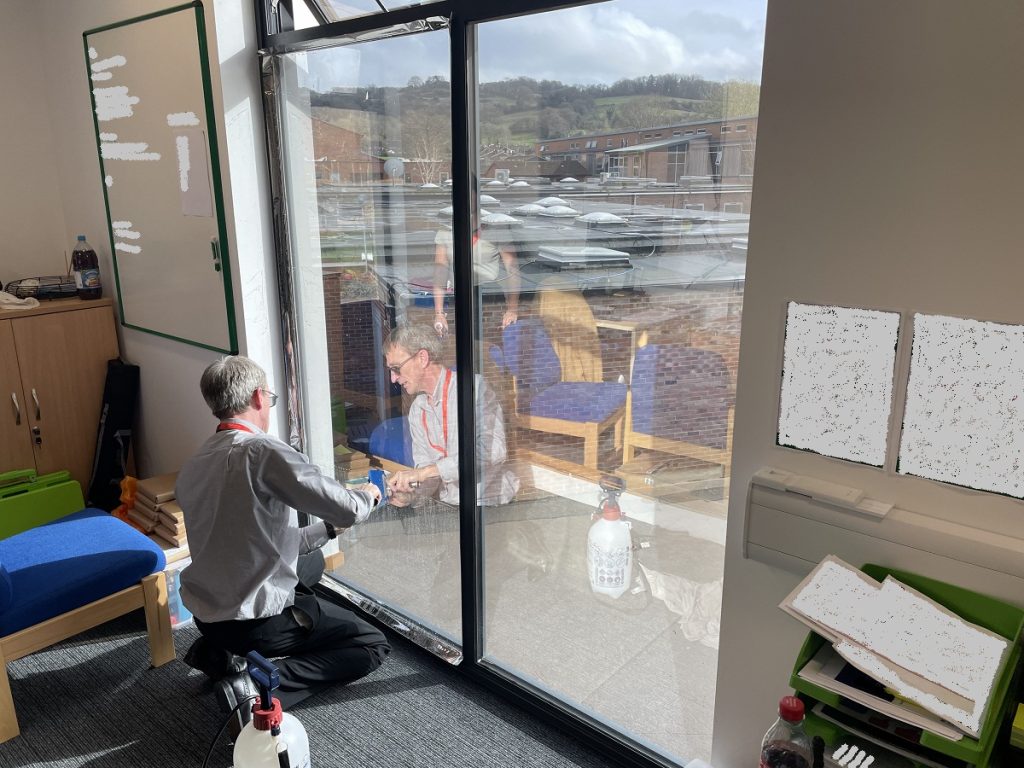 A little bit of tidying up and this section was complete!
There was one other large window with a small window above it inside the office. We also completed that one . Below is a picture of how that one turned out.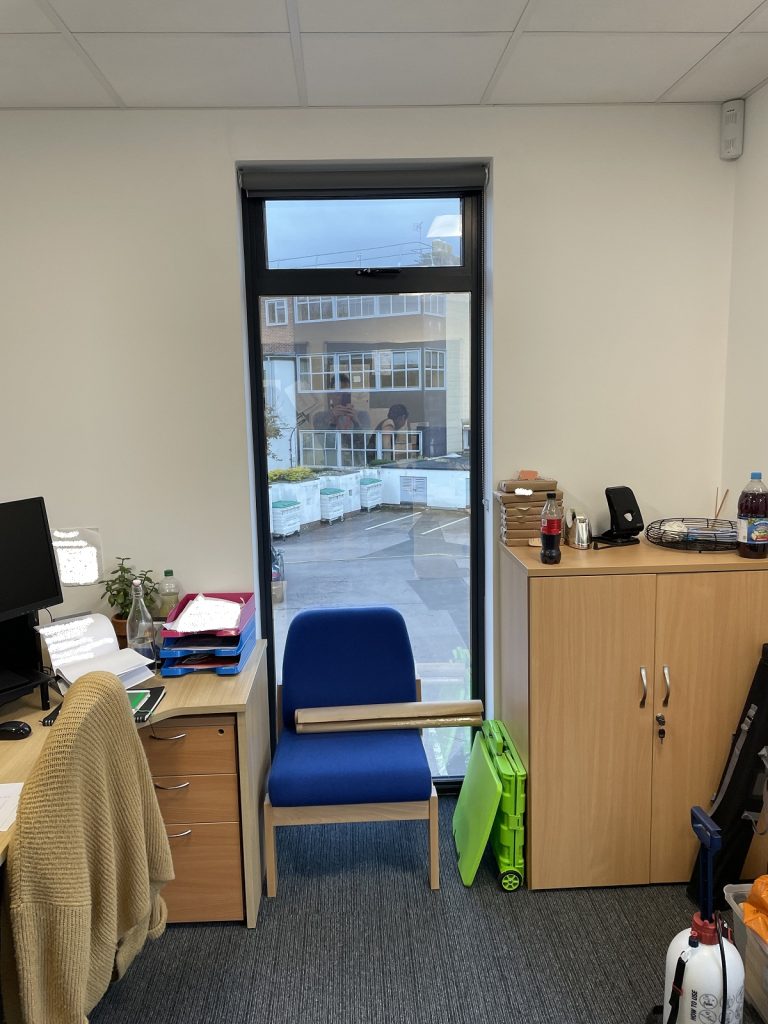 The classroom.
After we had completed all the windows in the staff office we then turned our attention to the actual classroom. This was four windows exactly the same size as the ones in the staff office.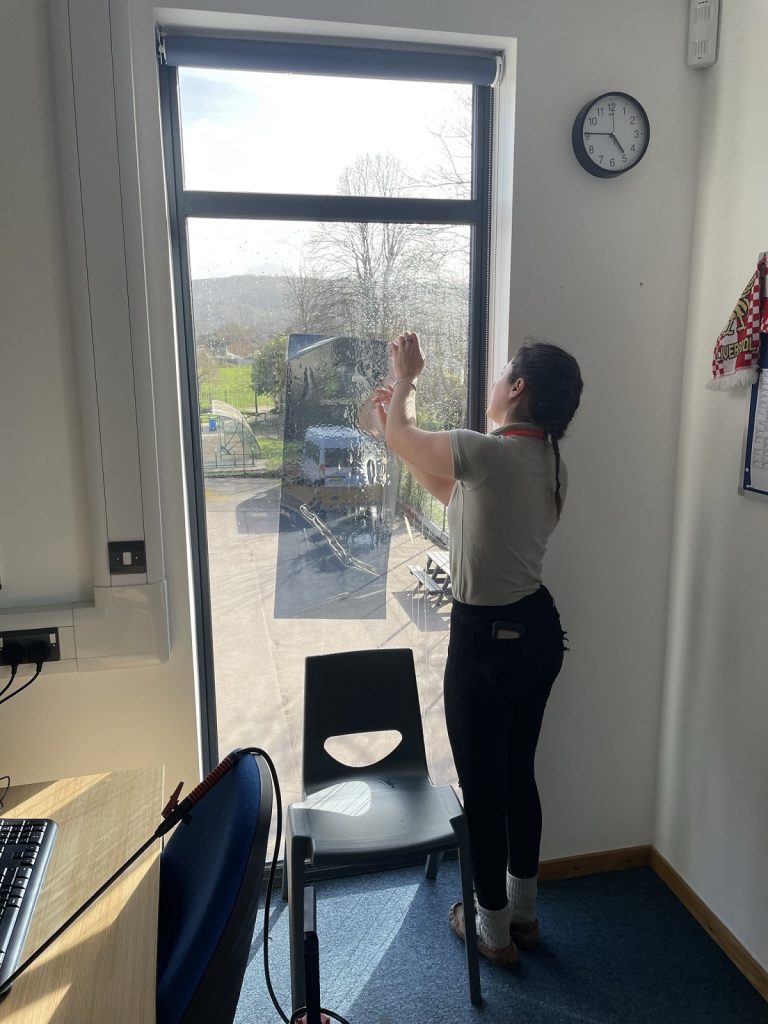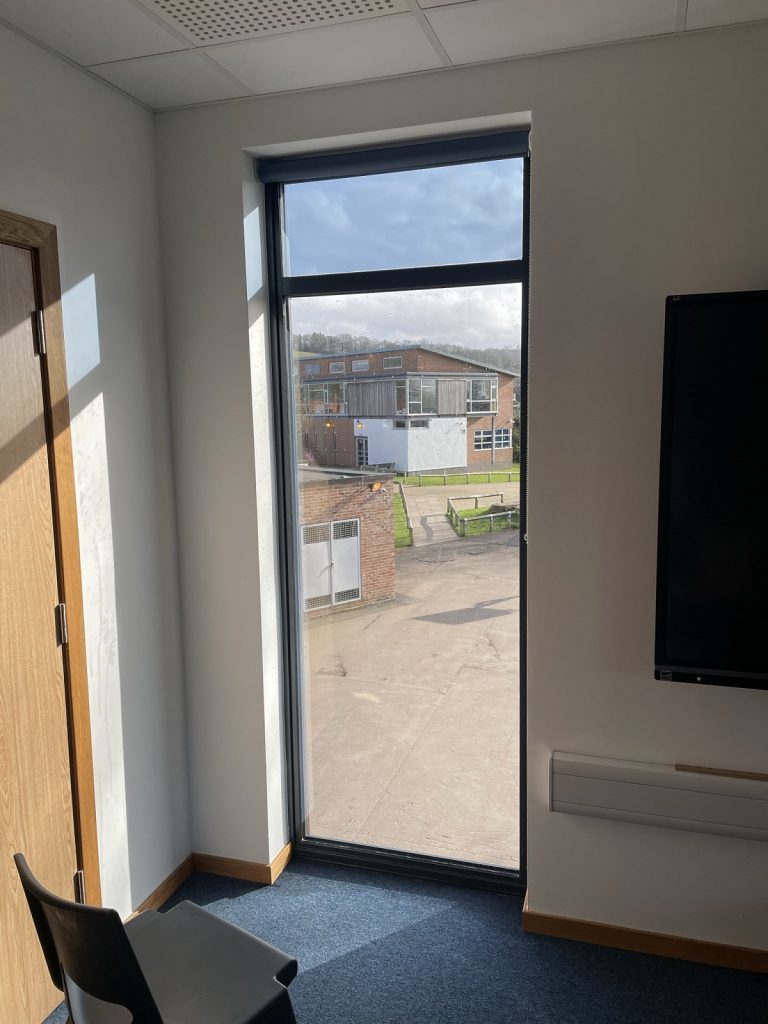 Above are a couple of shots of work being done on the classroom. In the first picture on of our technicians is in the process of removing the protective backing off of the window film immediately prior to installation and the second picture shows one of the smaller windows with the tint installed to the upper window so you can see the comparison. Note that this film still allows in plenty of natural light.
External view.
Below is a series of pictures to show exactly how heat reduction window film on a school looks like from the outside. As you can see this film gives off a lovely mirrored finish. This is silver but as said earlier in this blog post there are a plethora of different colours, meaning that there is bound to be a match for most properties external finishes.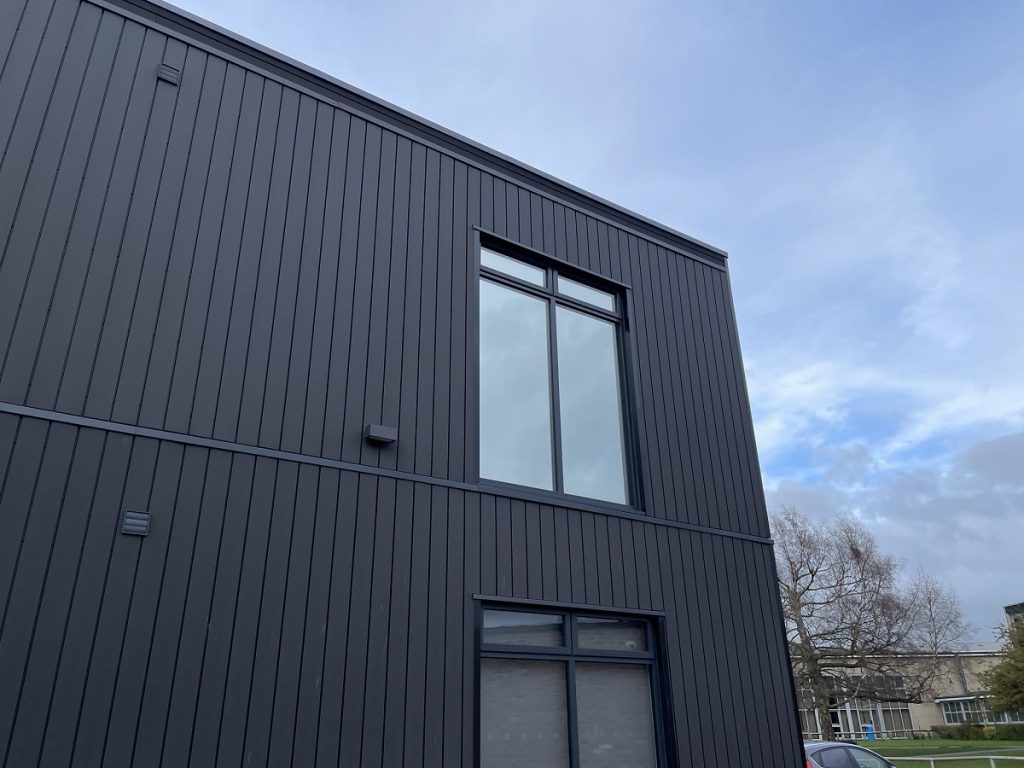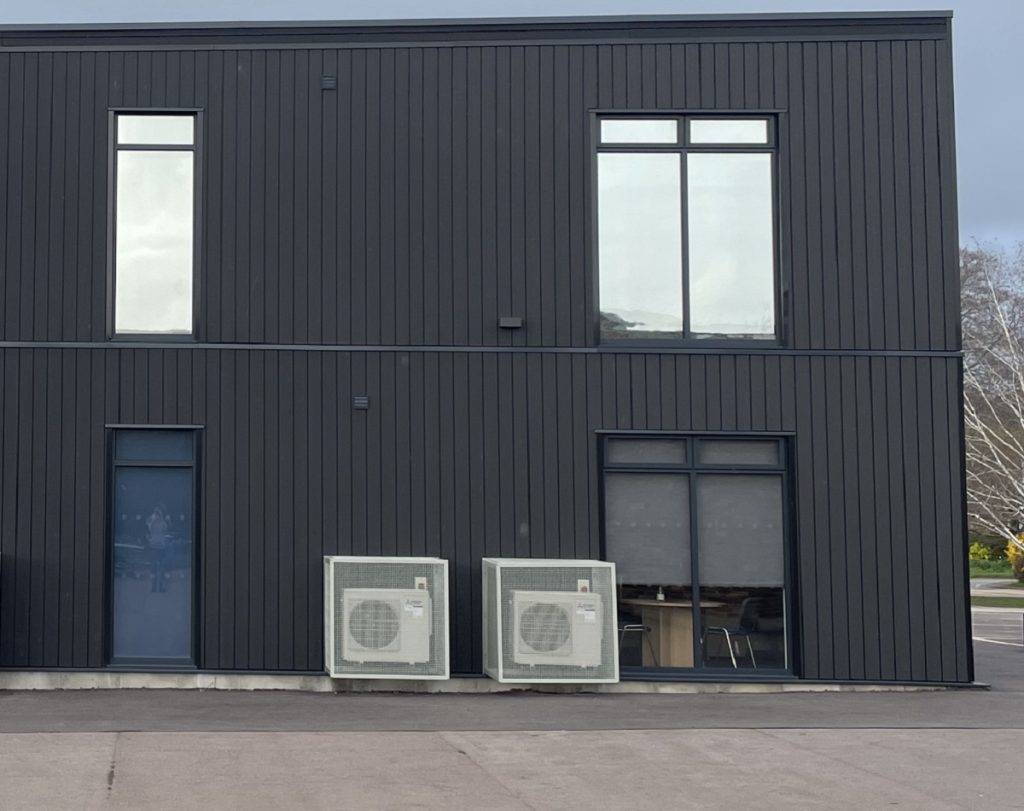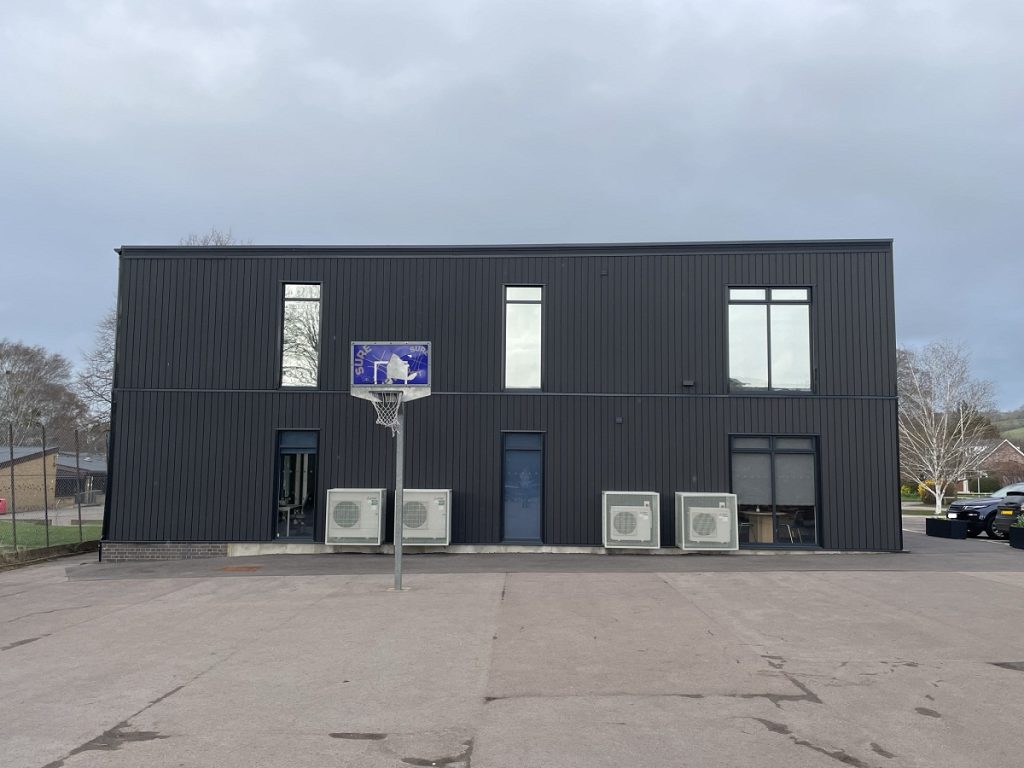 Thinking of getting some installed?
If window film is something that you think may be beneficial to your own home or business please feel free to contact us, and we will be able to run you through your options. We can give you a completely free no-obligation quote. We think that you will be pleasantly surprised at our very reasonable prices. All of our window film comes with a 10 year limited warranty for added peace of mind too.
Our blog is a great resource of information so please feel free to take a read of some of our articles; from what exactly home tinting is, to what it comprises of, whether it can cool down a conservatory, prevent fading or even lower your energy bills.
We also did a nice blog post on the top 10 most frequently asked questions that we receive.