Home window tinting (also known as residential tinting) is an increasingly popular way of making a home more efficient. Whether that is by making the home cooler in summer or helping reduce energy bills in the winter more and more people are choosing this very smart and extremely modern technology for their homes.
The window film is applied to the interior of the glass by a professional window film installer. Most window film also filters out harmful UV rays and is extremely low maintenance. Here we will take a look at the various types of window film that Cheltenham Home Tinting can install, and what they can do to improve your home.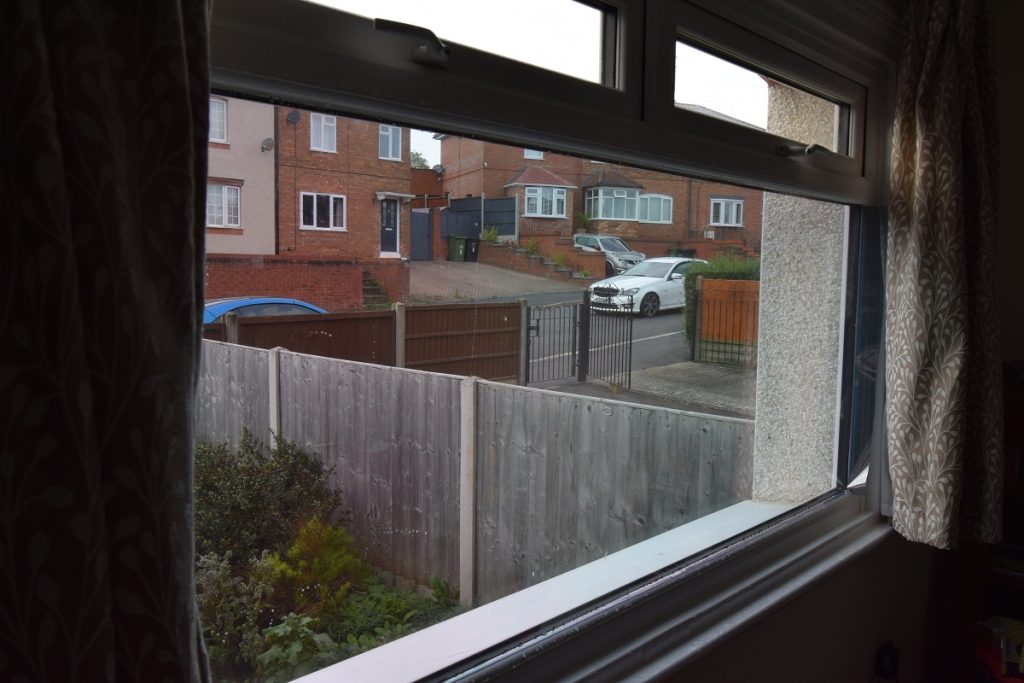 Energy saving window film.
Energy saving window film is a very popular choice these days, especially with energy bills spiraling out of control. One of the main places a home loses heat from is through the windows and this clever window film reflects and radiates the heat back into the home. It can save anywhere between 27% and 33% of heat lost through the actual windows themselves. This will result in a saving on energy bills.
As well as their fantastic energy saving properties they are a very good choice for all year round because in the warmer months they also have some heat reduction benefits too.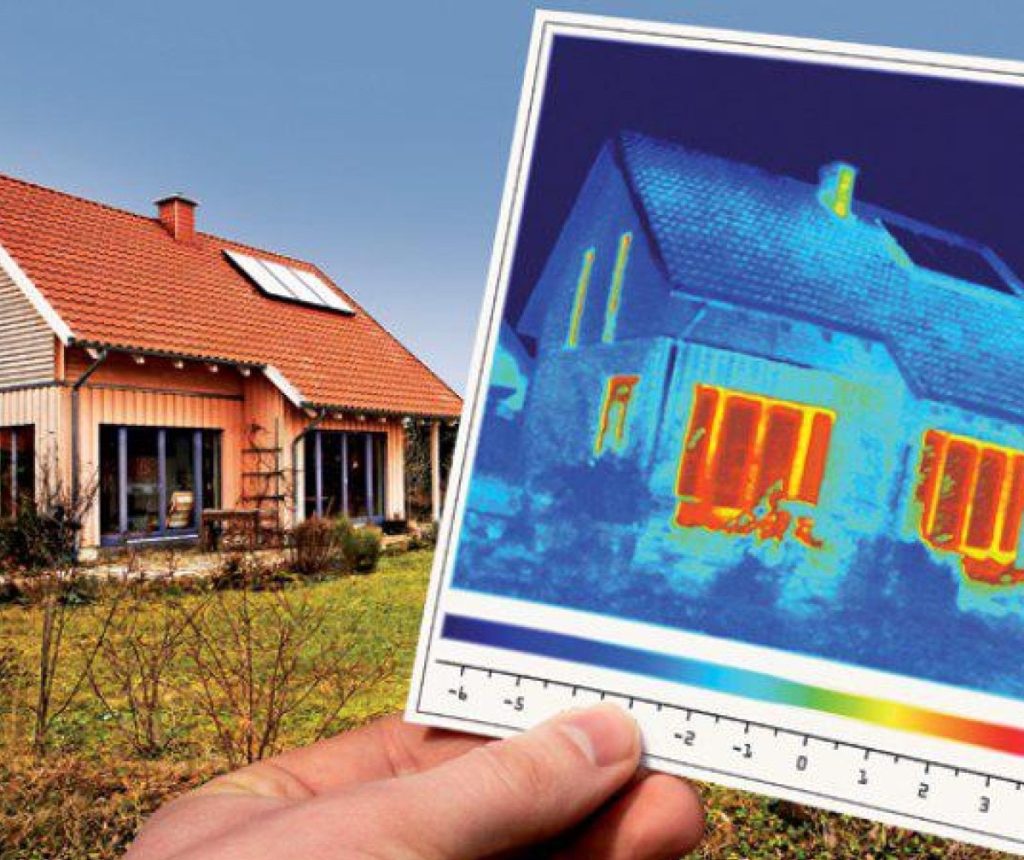 The image above is using a TIC (Thermal Imaging Camera) to show heat loss through the windows of this property. The red and yellow areas are showing where heat is escaping, that is all of the windows and even part of the chimney stack. If this house were to be fitted with energy saving window film it would be reflecting some of that heat loss right back into the property.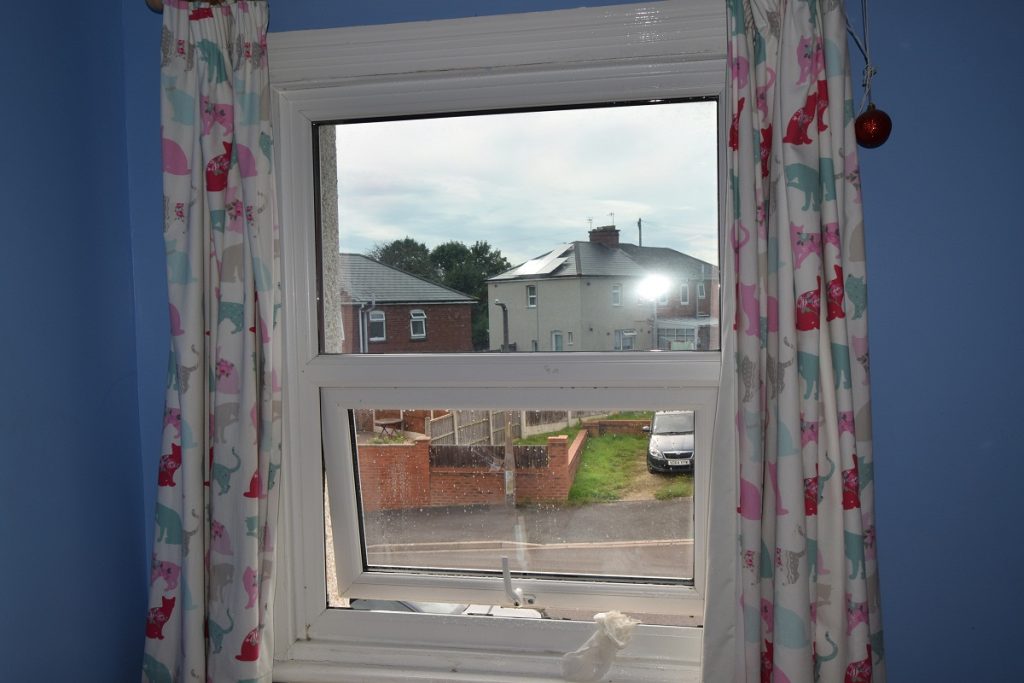 Energy saving window film will reduce the amount of light coming through but not by much. It depends on which film is used. As a very nice comparison in the picture above the top window has Low E Light Silver 50 energy saving window film installed, and the bottom window hasn't. It is slightly darker but not by much.
---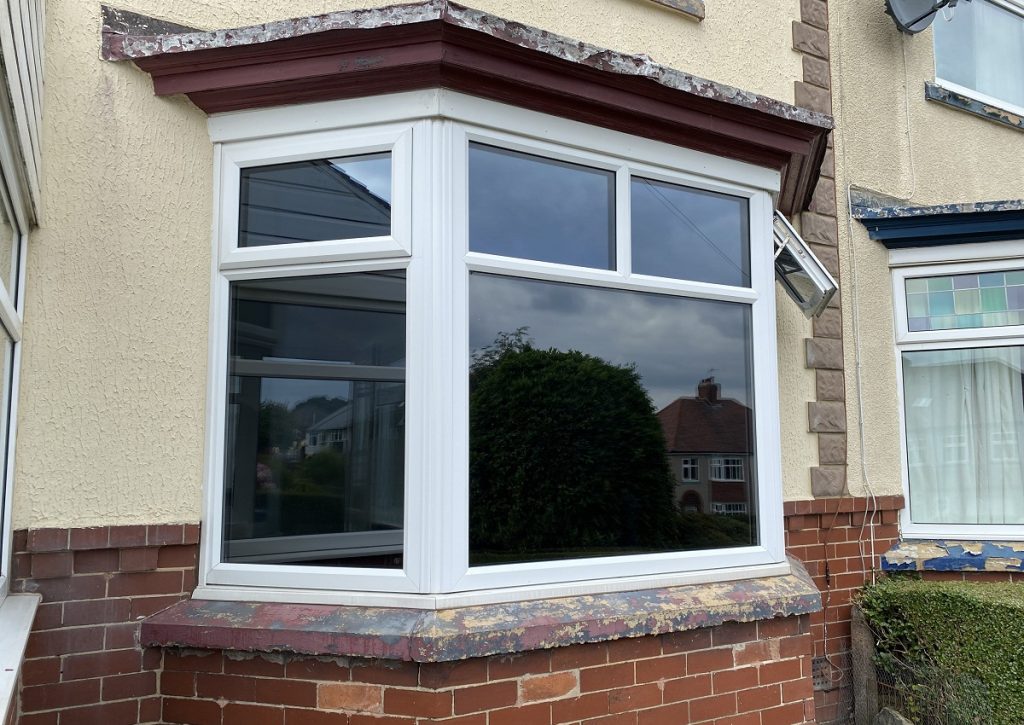 Heat reduction window film.
Homes can of course get very hot and uncomfortable inside during the warmer months, especially conservatories. Home window tinting is perfect for helping to keep the temperatures down as well as offering additional privacy. Window film has a major advantage over blinds and curtains in that it manages to also block solar energy, which curtains and blinds cannot. Also with curtains and blinds they block out your view, with tinted windows you are still able to enjoy the view.
In the above picture the window film used is called Dark Reflective Grey 20 Window Film. Various other shades are available including bronze, blue, gold, red and purple.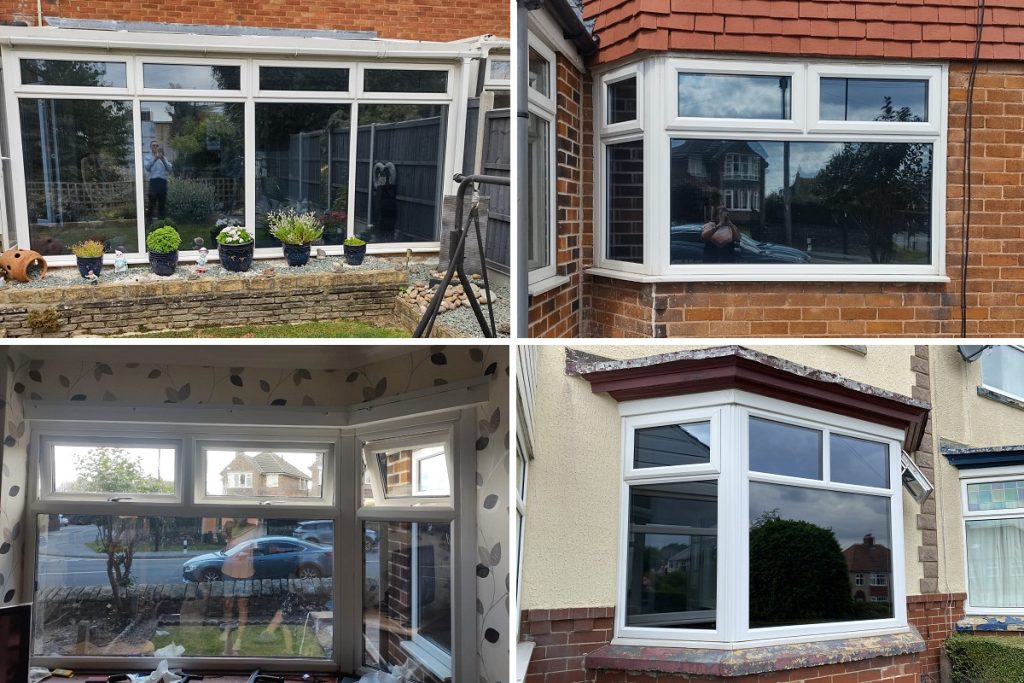 Heat reduction window film works by reflecting the solar energy away from the window, meaning that it is much more comfortable inside the property. Heat reduction window film is available in a wide variety of grades and finishes. In the above picture are some examples of recent work carried out by Cheltenham Home Tinting on various homes, including a conservatory.
Although conservatories are the most popular for heat reduction window film it is also perfect for any room that suffers with excessive heat during the warmer months.
---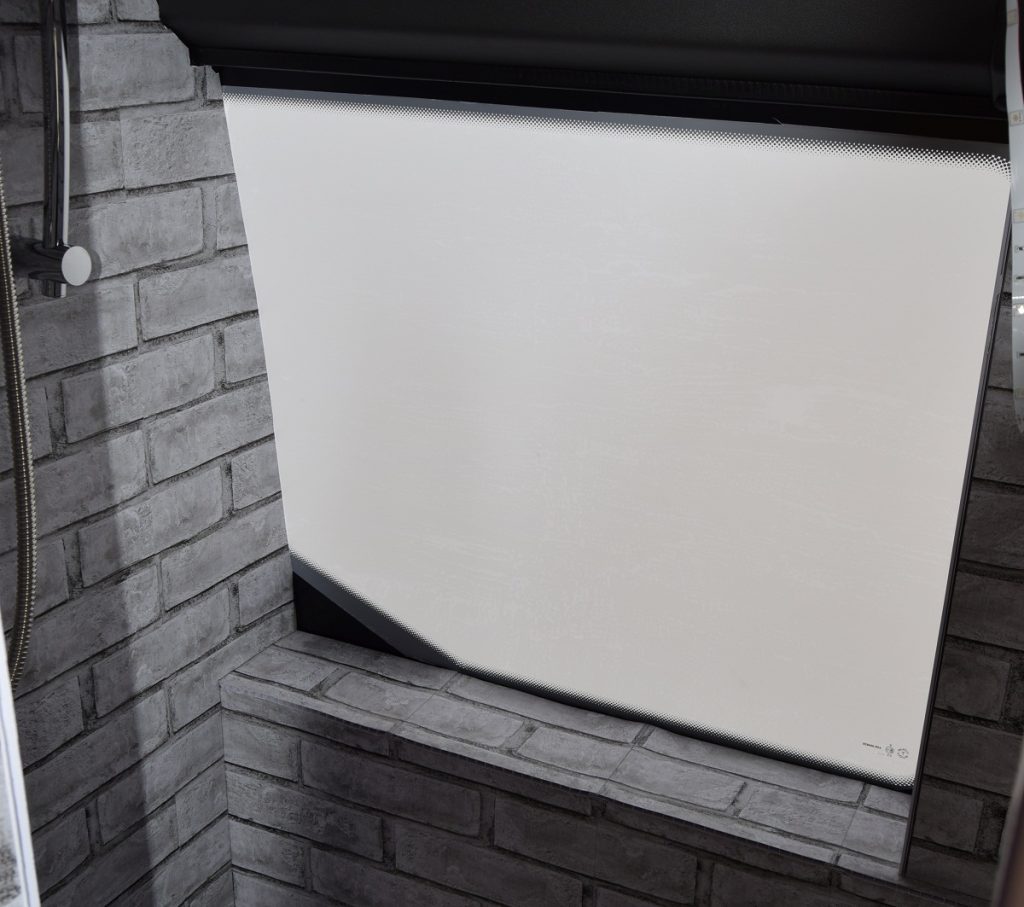 Architectural window film.
Architectural window film is primarily used for decorative and/or privacy reasons. It acts very much the same way that frosted glass does, it provides complete privacy whilst also allowing lots of natural light through. It can also be used on certain parts of a window, for example, if you only wanted the bottom half of a window doing.
It is available in a variety of finishes including frosted, dusted crystal and dusted frost.
---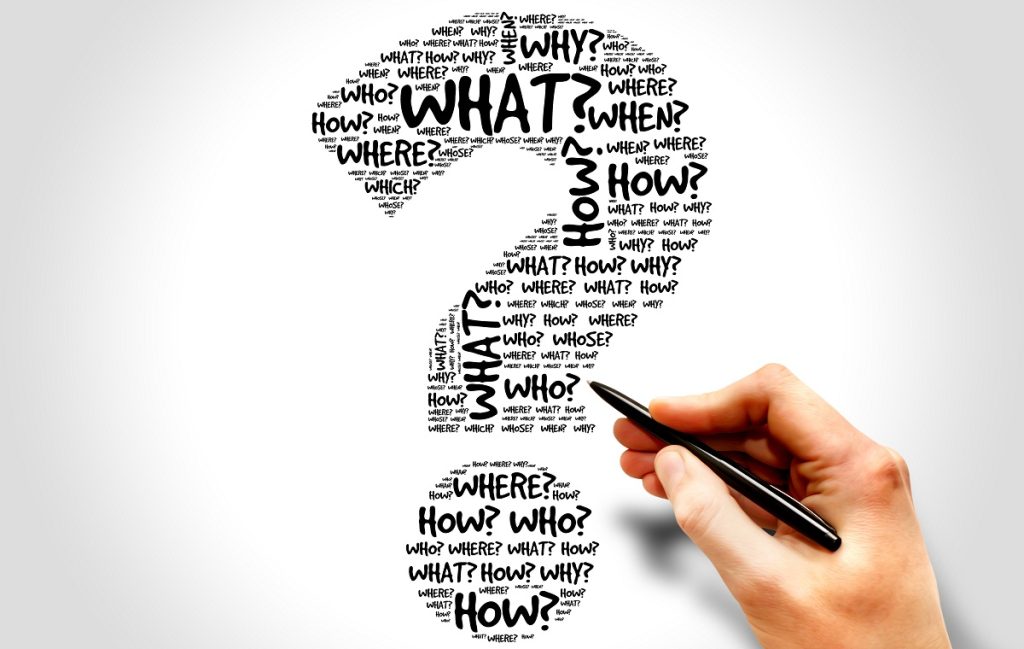 Frequently asked questions.
We have a very good F.A.Q (frequently asked questions) area on our residential window tinting page where we cover many of the more common questions that we get asked. Please feel free to take a read.
Feel free to contact us.
Cheltenham Home Tinting is a family run business with an emphasis on good old fashioned customer service. We will be more than happy to answer any of your questions. We can be contacted through our contact us page, via email at support@cheltenhamhometinting.co.uk or by telephone on 07455 450029.
---
If you are looking for vehicle window tinting in Cheltenham please feel free to visit our sister company LADZ Wrap N Tint.