Household energy bills are going to go through the roof this winter, if you'll pardon the pun. The good news is there are a few things that you can do to help reduce these bills, and fitting energy saving window film to your home is one of them.
Tinting your home with energy saving window film works by reflecting and radiating heat that would usually be lost through the windows back into the property. A reduction of between 27% and 33% of heat lost through the windows is achievable using our energy saving window film. This will result in a reduction of your energy bill.
The film is applied to the inside of the windows of the property by our fully qualified installers. More and more people are opting for this clever technology to enhance their home experience.
So what exactly is it and what does it look like? In this blog post we will show you exactly what it looks like by documenting a recent install we did on a three-bedroomed property in Worcester. The exact name of the window film used is Low E Light 50 Energy Saving Film. There are other variations available of which we can discuss with you in a telephone consultation should you be interested.
Show me a comparison.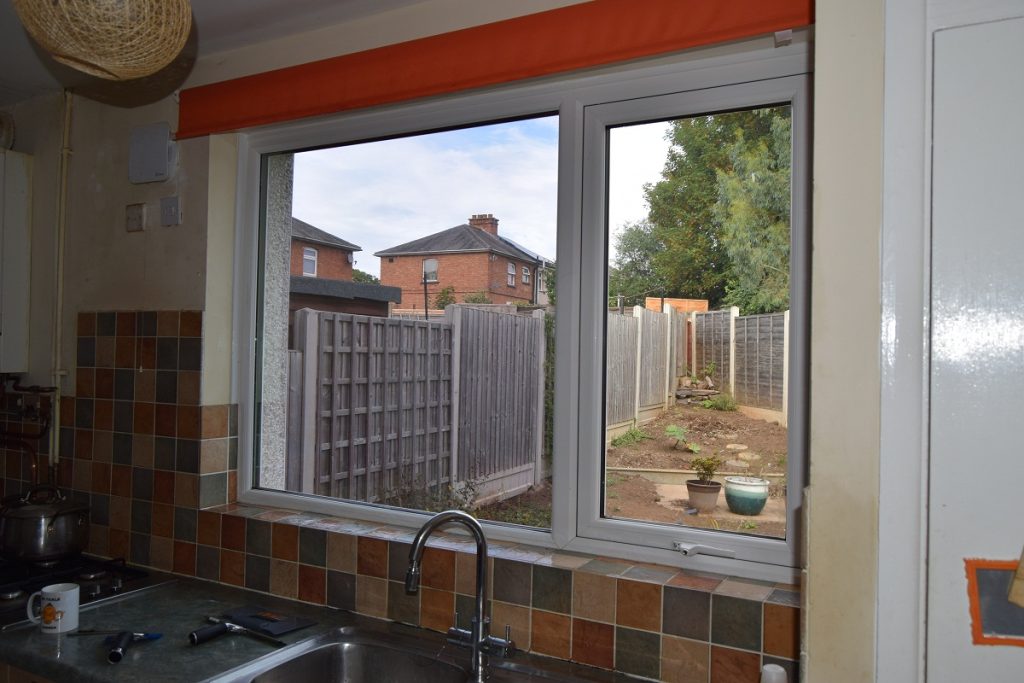 Firstly you may be wondering if the film will make the interior of the property too dark. Thankfully that is not the case. It will make the room slightly darker but not by much. In the above picture of the kitchen the left hand window has window film installed, the right hand window doesn't.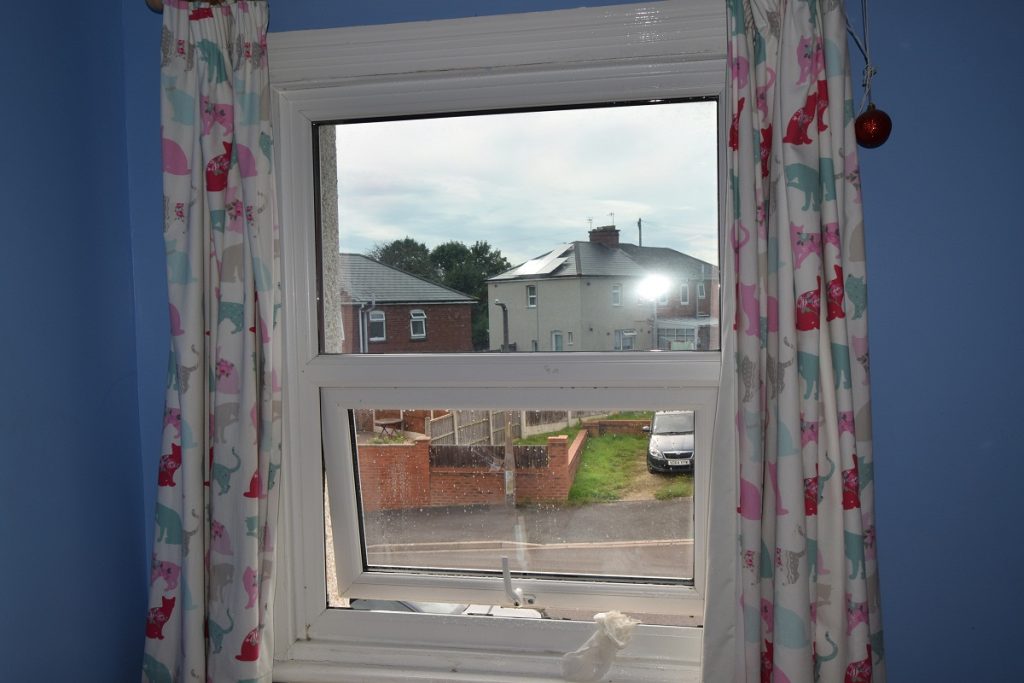 For a further comparison, in the above picture from the small bedroom the upper window has window film installed and the bottom one doesn't. Again you can see that the difference is negligible.
Is installation messy?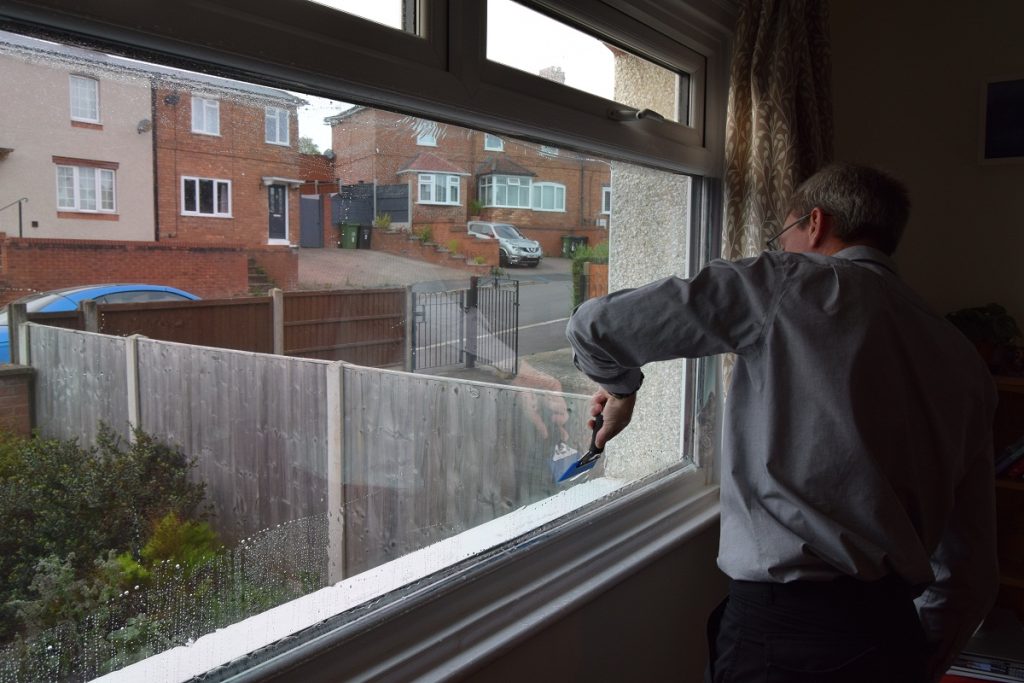 You will be very pleased to hear that it isn't messy. During installation we do use a fair amount of water based installation solution but this is totally safe and chemical free, so it will not cause any damage to any furniture, carpets etc. In the above image one of the team is seen applying energy saving window film to the front room window. In the image below it is being installed on one of the bedroom windows.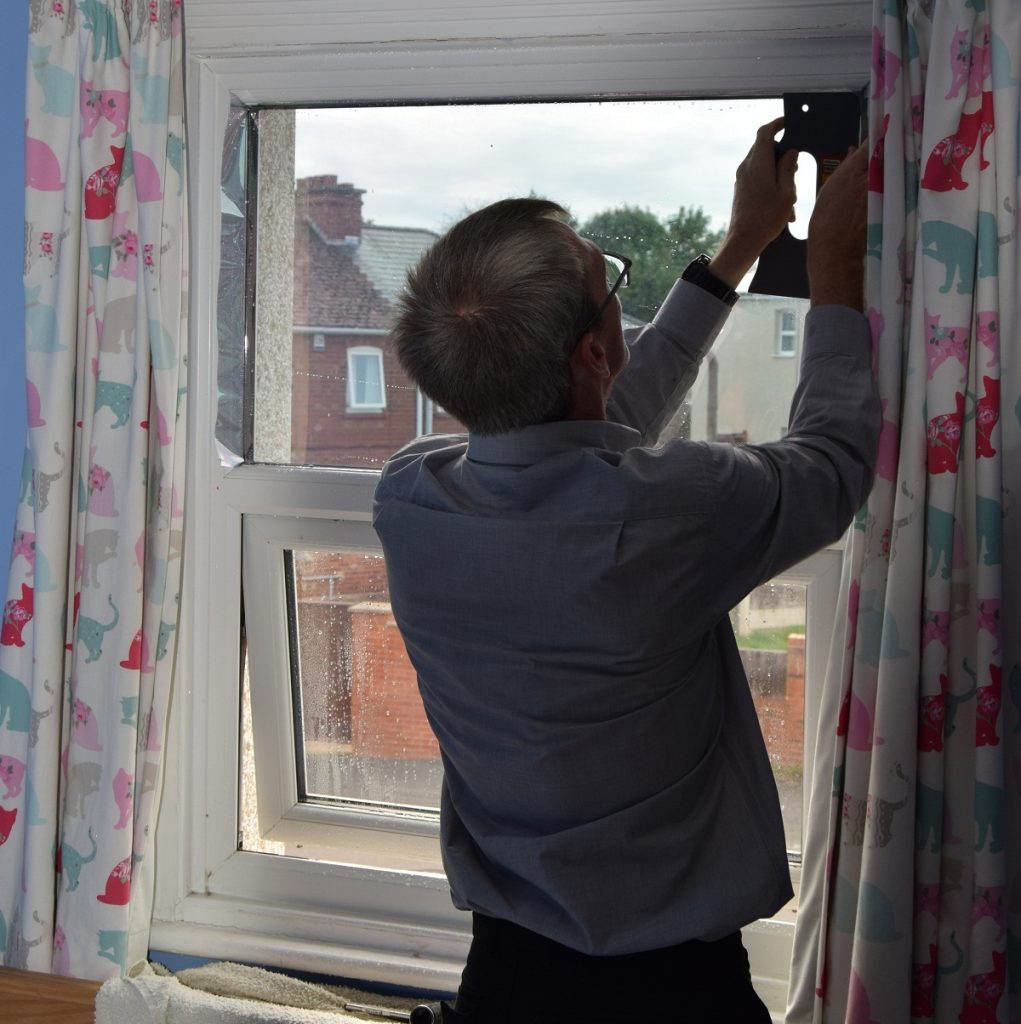 Our installation team are always very polite and courteous, showing the utmost respect for someone else's property. Amazing that we feel the need to say this but you would be surprised.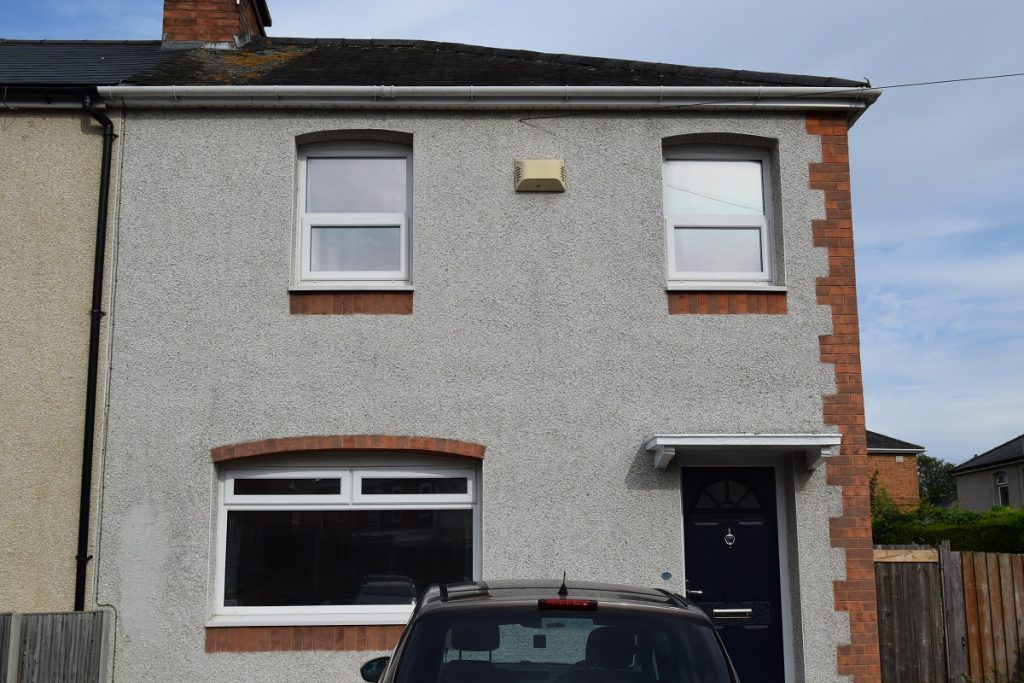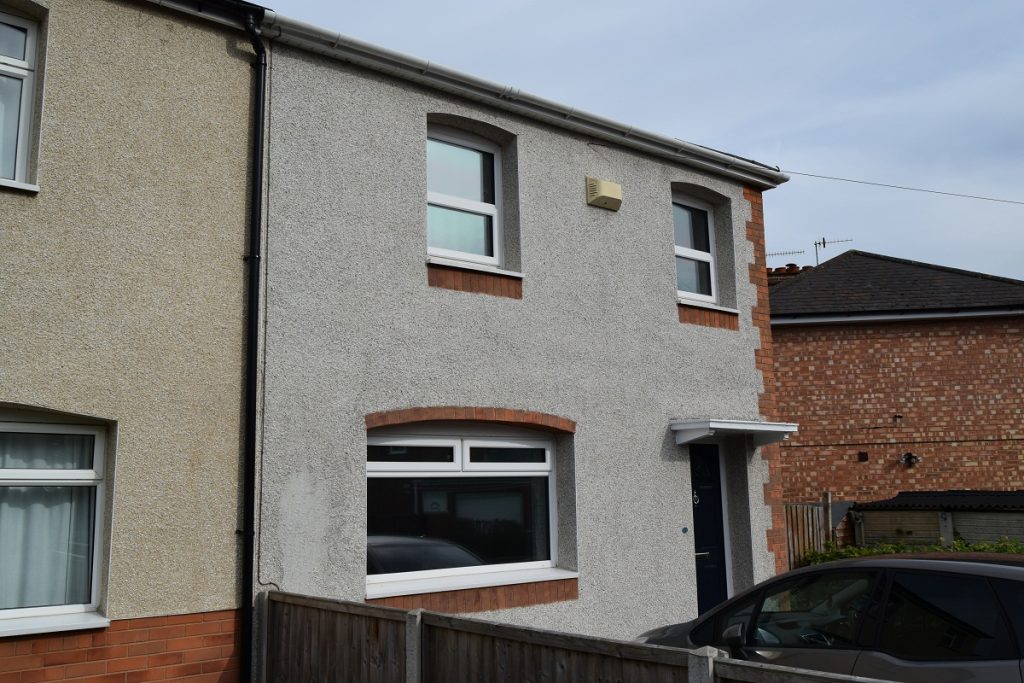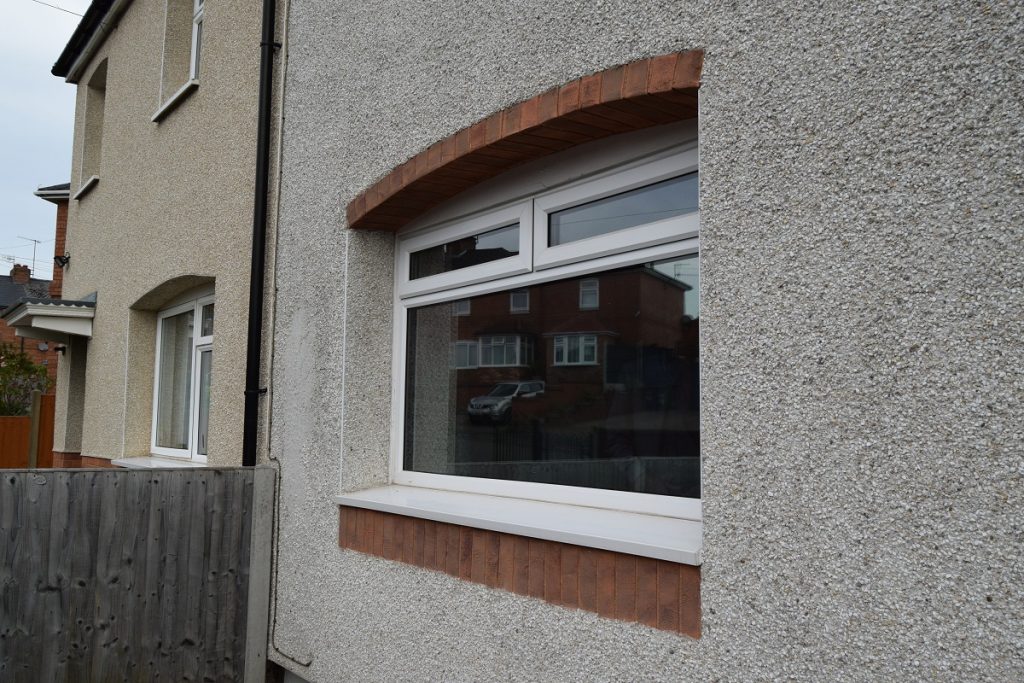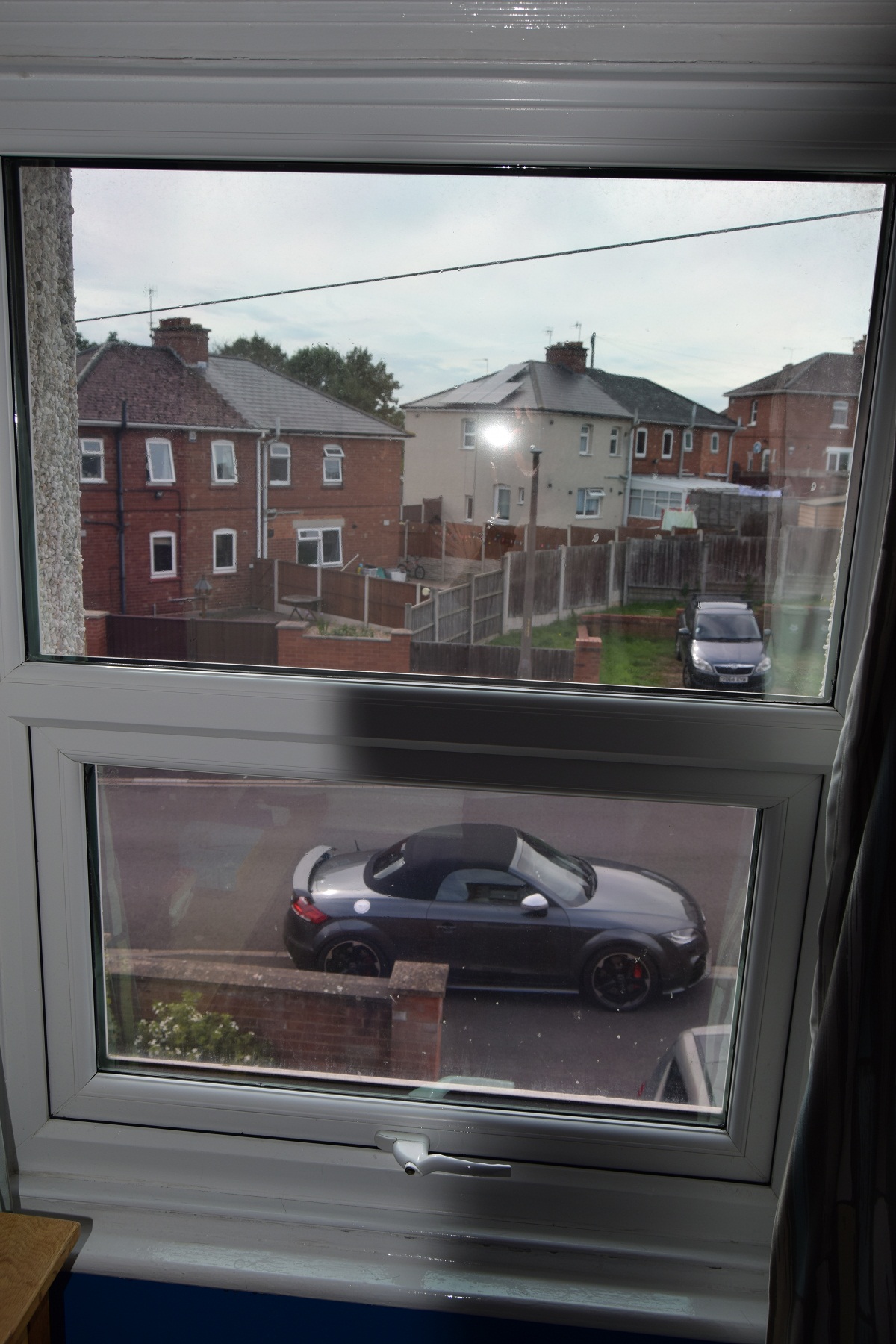 How long does it take to install?
Most average sized properties can be completed within a day. Our team will be able to give you a much clearer time-frame during the telephone consultation.
Does it come with a warranty?
All of our energy saving window film comes with a 6 year warranty for complete peace of mind.
Is it easy to remove?
We get asked this quite a few times by people who rent properties. The answer is yes, it is relatively easy to remove. So for any people who rent they can easily remove it should their tenancy end for whatever reason. Once it has been removed it cannot be stuck back on though, due to the adhesive it is very much a single-use application.
Is there any other benefit of energy saving window film?
Yes there is, and it's a very good one too. As well as helping to save you money off of your energy bills in the winter, due to the nature of the window film it also offers heat reduction properties in the warmer months too. So energy saving window film is a fantastic choice for benefit all year round.
For more information on home tinting please feel free to contact us.
For a completely free no-obligation consultation please feel free to contact us via our online contact form, by telephone on 07455450029 or by emailing us at support@cheltenhamhometinting.co.uk (click the email link to autocompose.) We would be delighted to discuss how we can help you save some money this coming winter.