Although we are primarily residential window film installers we also do commercial window film installation. Here we showcase a couple of recent jobs that we did in and around the Cheltenham area.
Commercial window tinting has a wide variety of uses, including privacy, UV blocking, energy saving, heat reduction and for decorative purposes. Installing window film is also a much cheaper option than purchasing specialist glass, which can be very expensive. This makes it a very economical choice and we have noticed that with proposed EPC regulations for 2030 this is becoming more and more popular.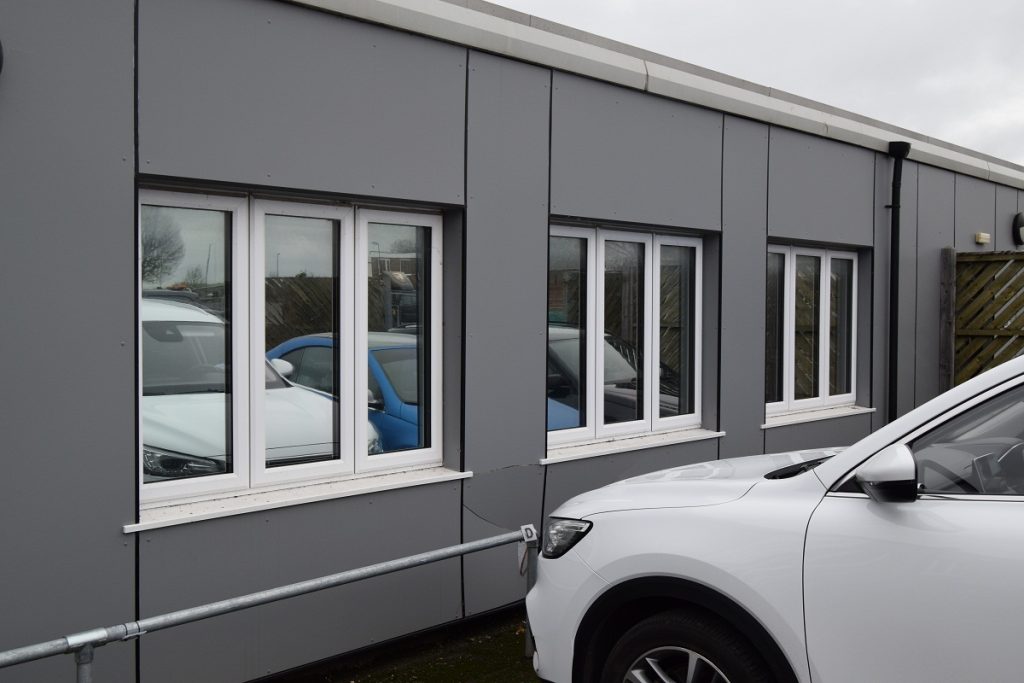 Privacy concerns.
This client was fed up with people staring into his commercial property so he approached us to ask what we could do for him. We explained that we could just fit some privacy film, but when we explained that our energy saving window film would also help keep his fuel bills down in the winter and the office cooler in the summer he loved the sound of that so he opted for energy saving window film instead of plain old privacy film. Although energy saving window film primarily helps to keep the heat in it also has some heat reduction properties too. It ticked all the right boxes for our client and he was very happy with the installation that Cheltenham Home Tinting carried out.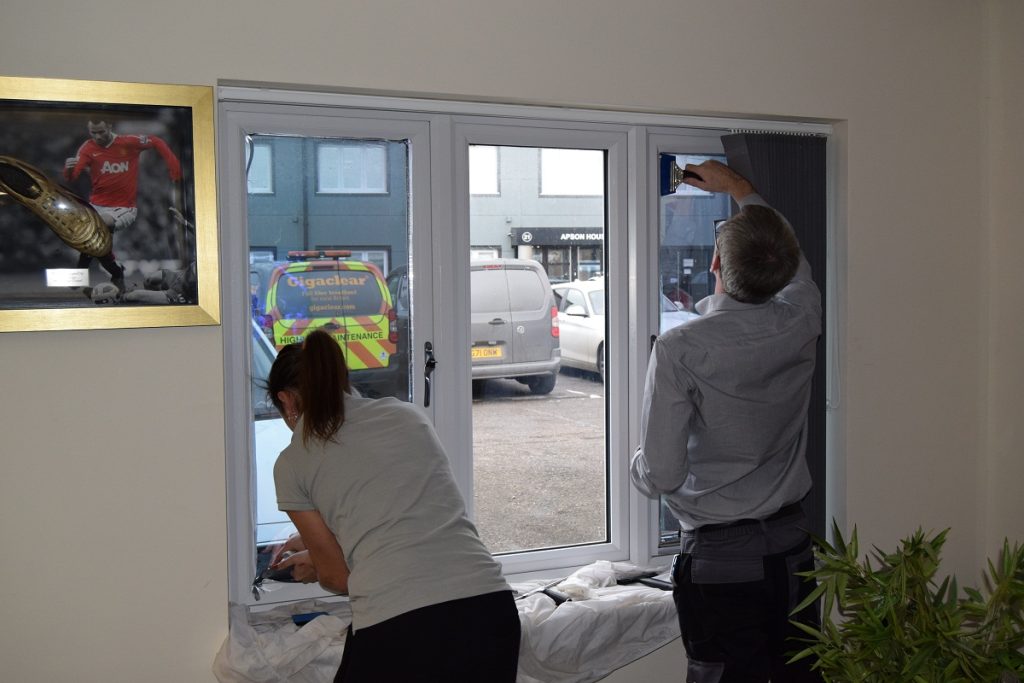 There was a total of nine windows that needed window film applied to, here the team can be seen working on one set of windows.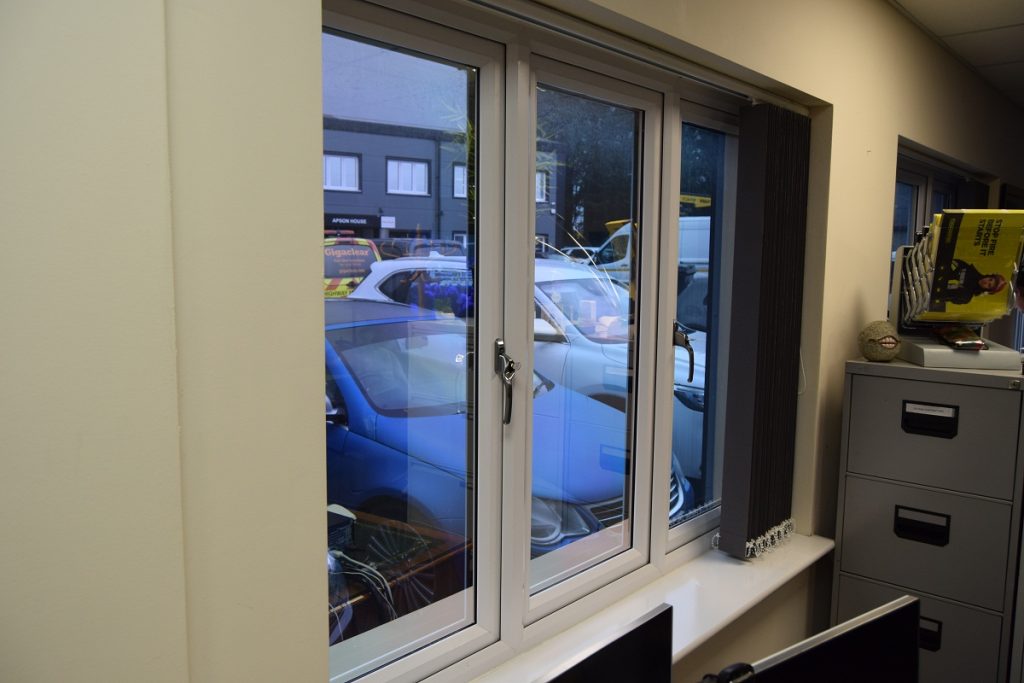 Above is what the windows look like with the energy saving window film fully installed. As said before energy saving film is extremely useful, not only does it prevent heat loss through the windows in the colder months it has the opposite effect in the warmer months, in that it also helps to keep the interior cooler by reflecting external heat away from the windows.
---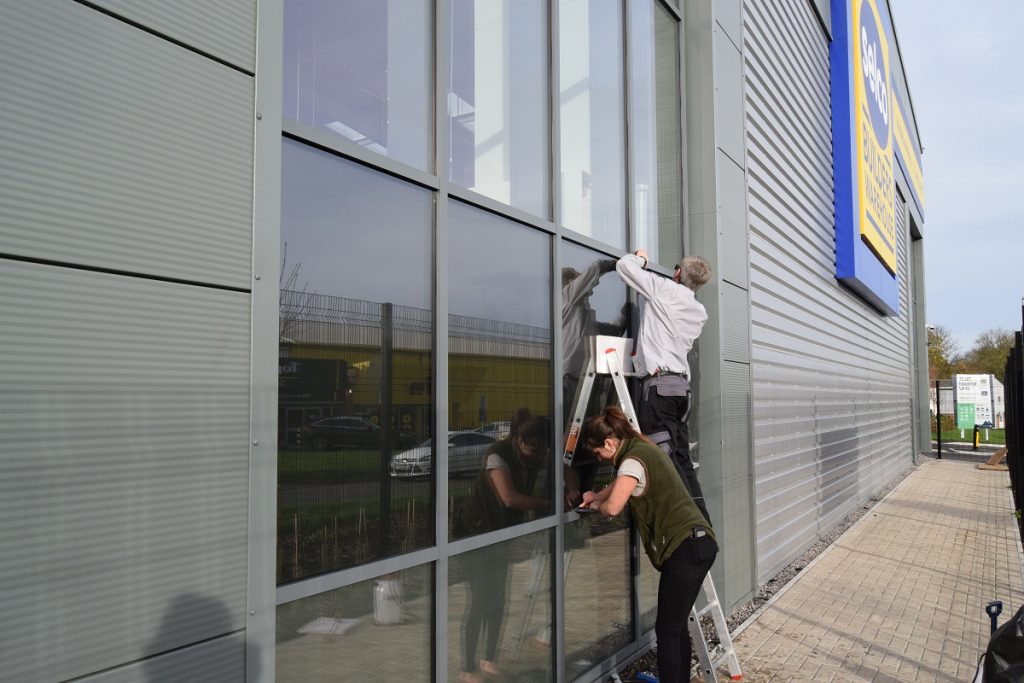 Large builders warehouse required various window film.
Our next client was responsible for construction of a brand new builders merchant opening up in the Kingsditch area of Cheltenham. They wanted some external windows tinting, along with some heat reduction tints for the rest room and privacy glass in the ladies and gentlemen's toilets. We were tasked with the commercial window film installation of 29 windows in total.
We used a mixture of different film on this job including;
● Heat reduction film
● Privacy film
● Architectural frosted film
● External heat reduction film
We started on the outside of the property. We were unable to apply the window film on the inside for logistical reasons, so we used specialised exterior window film applied to the outside of the windows.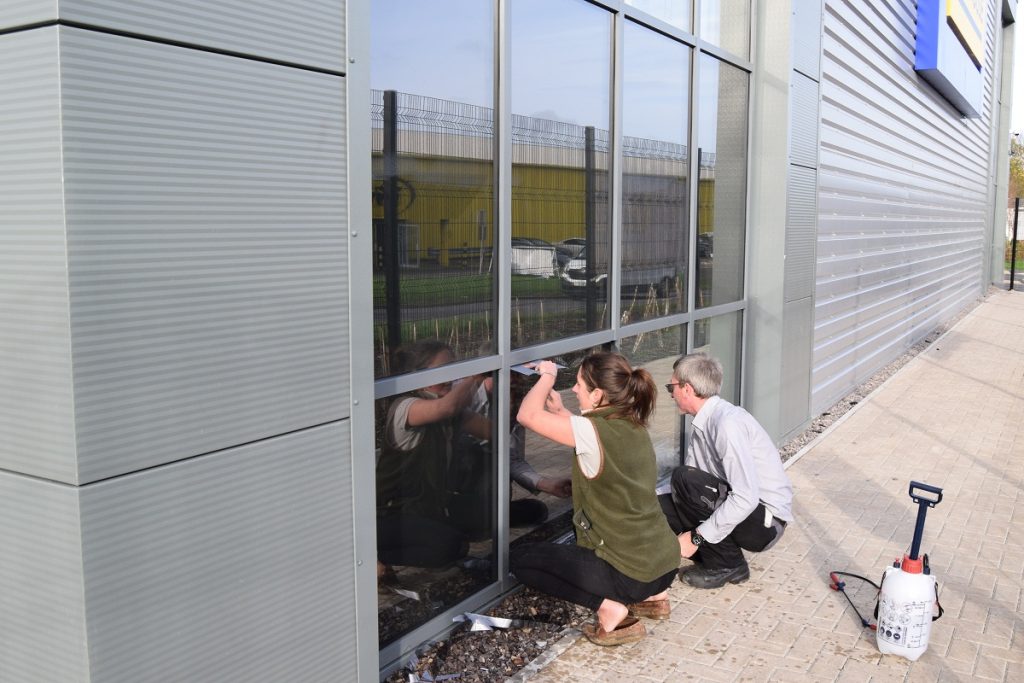 External window film works in very much the same way as internal window film does. The preferred option will always be internal but where that isn't possible it is perfectly fine to go with external window film.
The team had a total of 16 windows to do on two banks of windows. Below is a picture of the work fully completed on one set of eight windows. The team can be seen working on the second block of windows in the background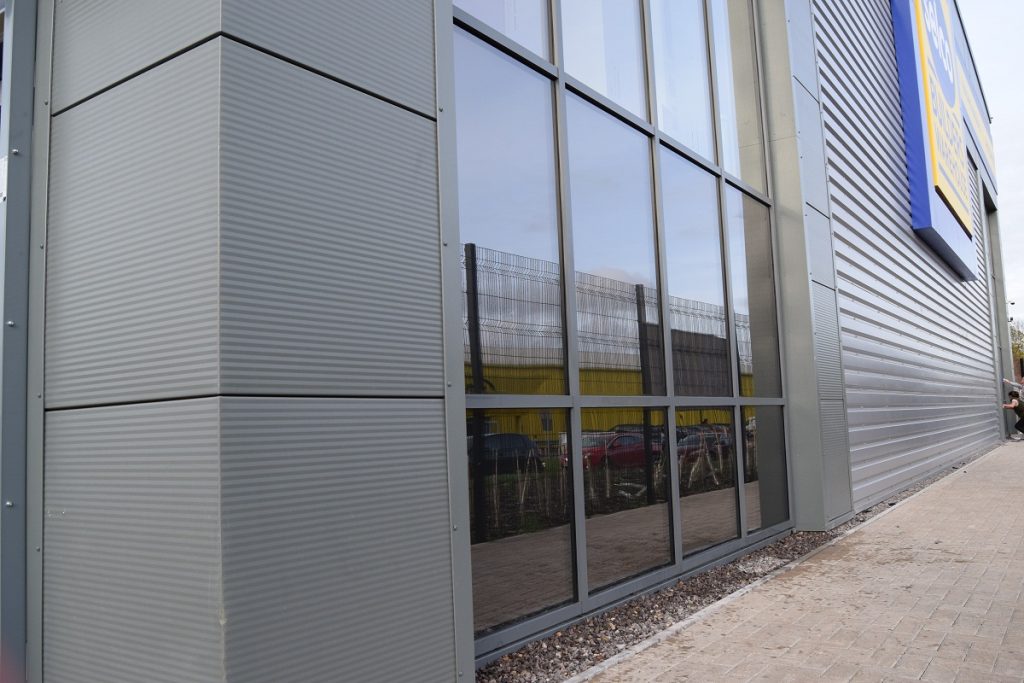 Internal window film installation.
Firstly we must apologise for the quality of some of the internal shots. This was very much a working environment and they were conducting something technical the whole time we were there because all we had was emergency lighting inside of the building. It had unsurprisingly also turned a bit dull and overcast too.
They wanted eight windows inside the rest room tinting, plus three more in the gentlemen's toilet and two in the ladies toilet. The team got cracking right away and can be seen in the picture below working away installing film on two of the windows inside the rest room which had a total of eight windows.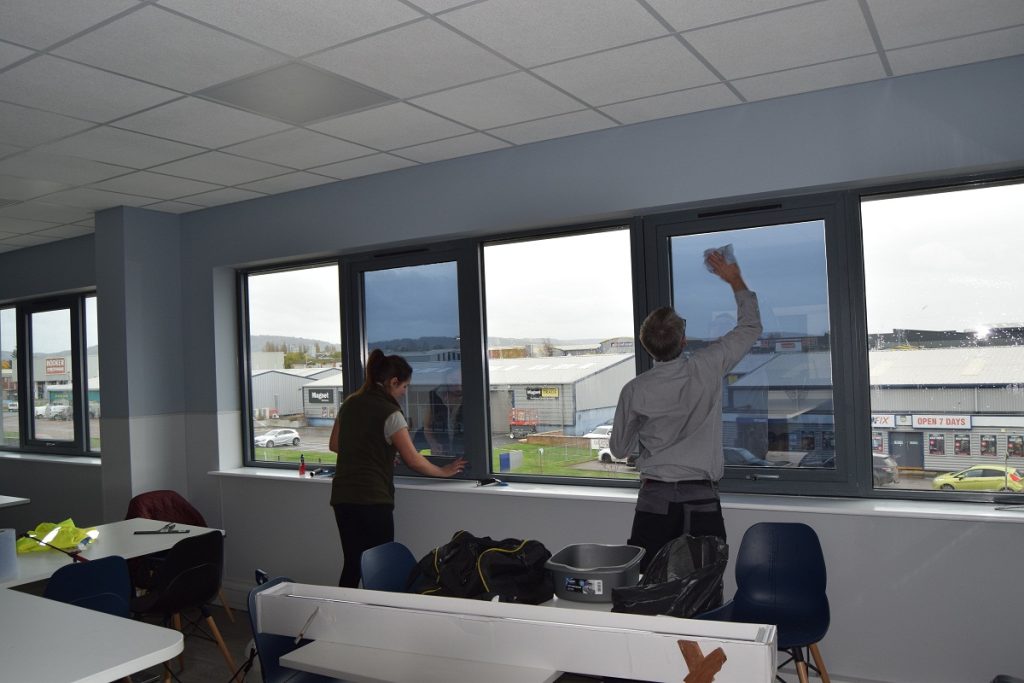 This type of window film is heat reduction film and it works by reflecting the heat of the sun away from the windows, thereby keeping the inside much cooler which will be a huge benefit for workers enjoying their rest breaks. This will also save money as the air conditioning system doesn't have to work anywhere near as hard as it would usually have to. This will of course result in lower energy bills.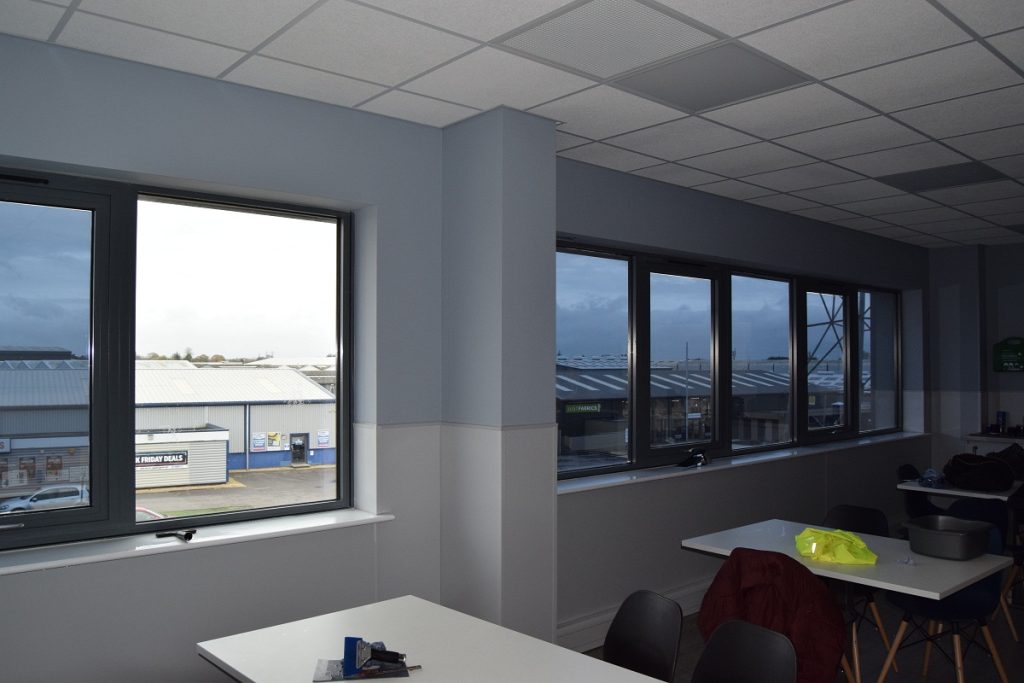 As you can see from the picture above we are really making some nice progress and have almost completed the rest room.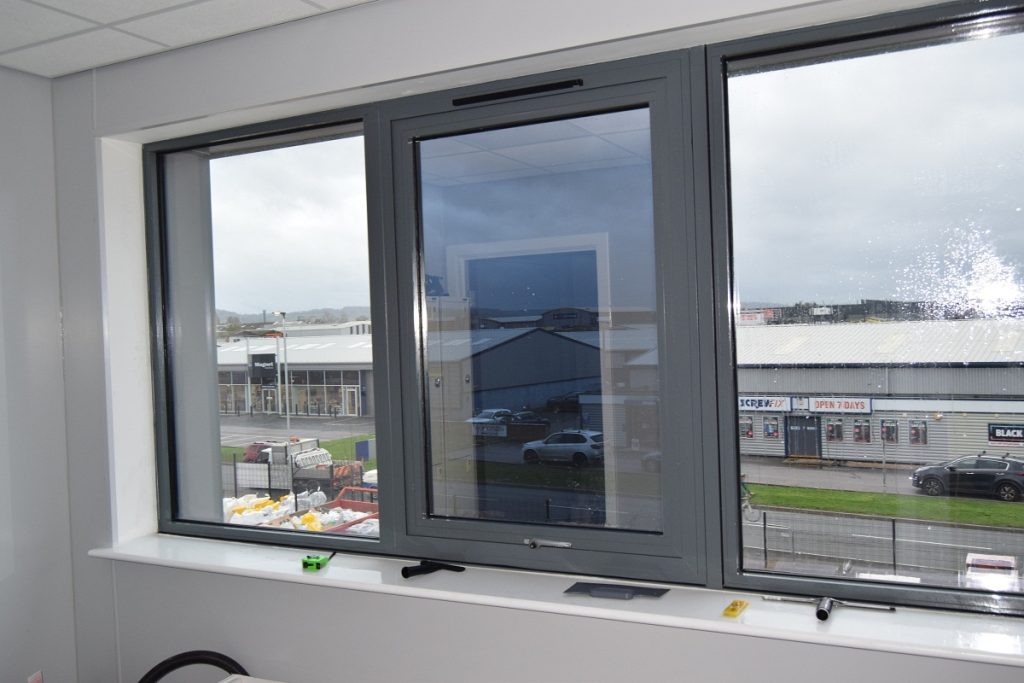 In the gentlemen's toilets our client opted for the same window film that we used in the rest room. There were three windows in total and in the above picture you can see the installation in progress with one window completed.
Frosted privacy window film.
Next we moved on to the ladies toilet. There are various types of privacy film that can be used. There is the white type that we fitted inside of our sister companies camper conversion in October 2022 and there is also a frosted type of window film. Our client opted for the frosted type of architectural window film.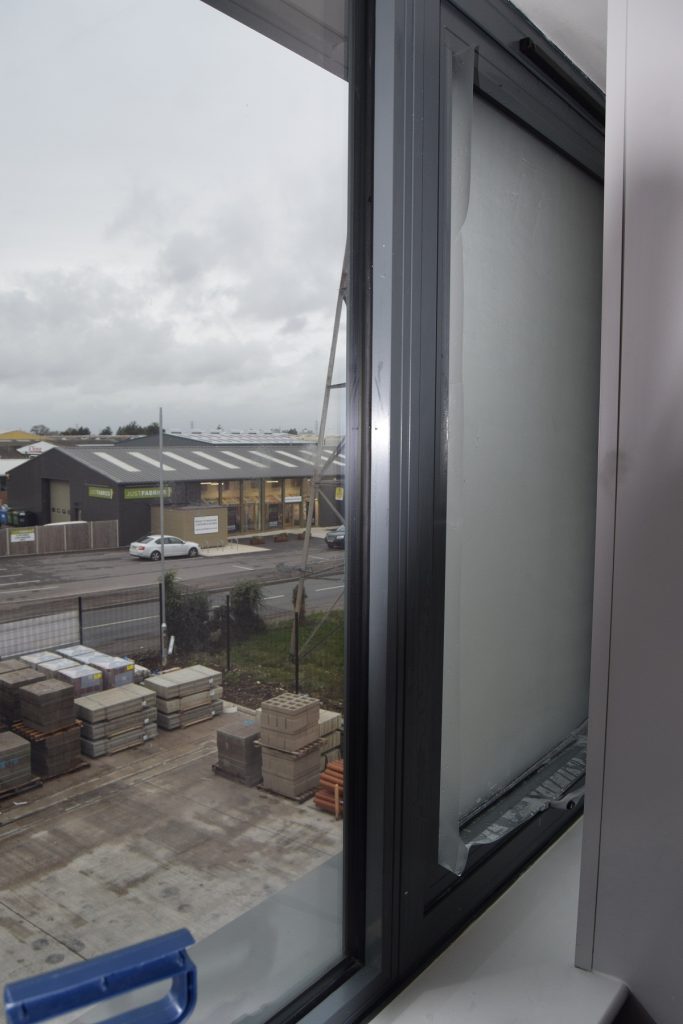 This frosted privacy film is absolutely perfect because it is incredible value for money and it still allows a lot of light through, making it the perfect choice for toilets. In the above picture you can see one of the two windows in the process of installation. Below is a picture of the completed job.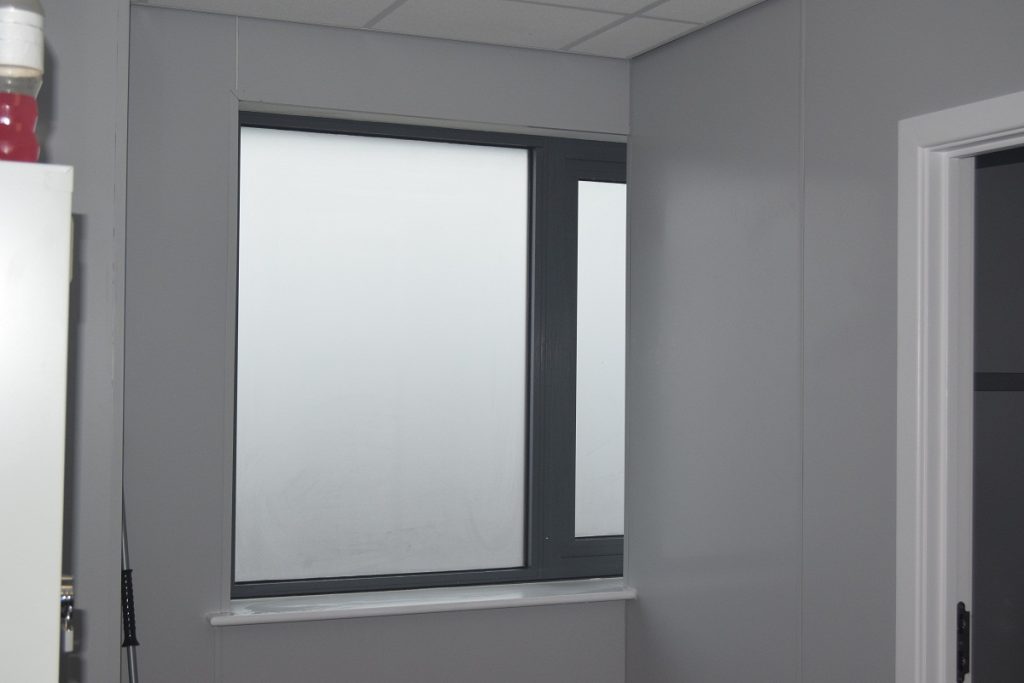 Can we help your business?
As you can see commercial window film is a simple and cost-effective way of improving the look and efficiency of commercial buildings. This entire job including installation came in at around £1,500. Should you be thinking of getting some work done on your own business please do not hesitate to contact us. Our expert team will run you through your options and give you a completely free no-obligation quote.
Not only are our team very fastidious they are also very professional, and unlike some trades will always clean up after themselves. We are Gloucestershire's number one when it comes to residential and commercial window film installation.