Spring is almost upon us and many people are getting ready for the upcoming warmer months. Our latest client approached us to install some heat reduction window film on his home extension in Gloucester.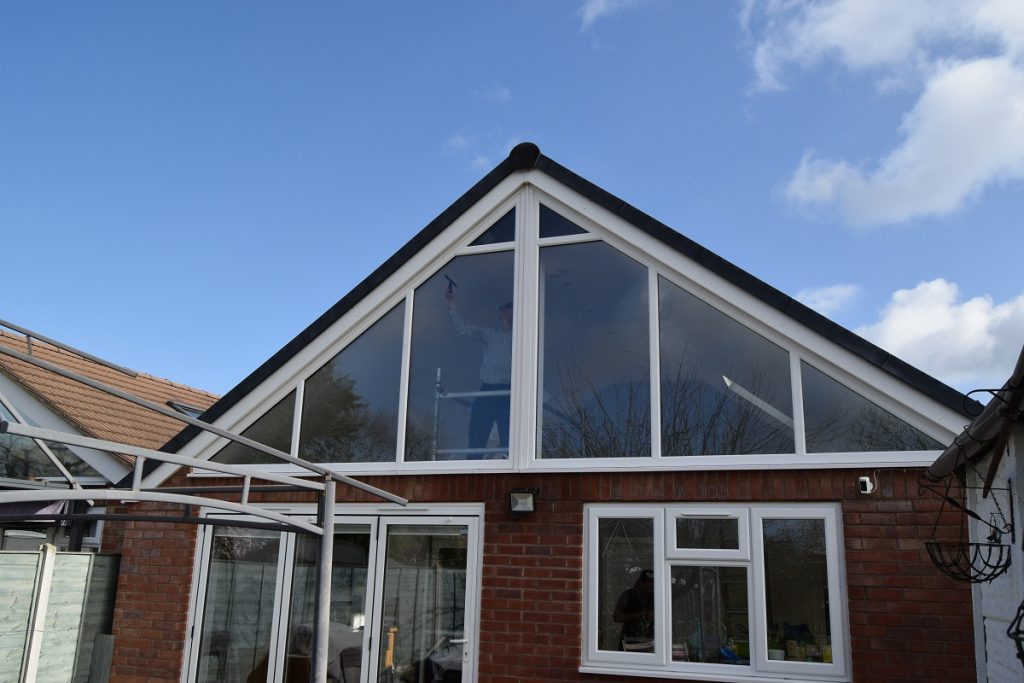 It's getting hot in here.
Conservatories, extensions and even individual rooms can get extremely uncomfortable during the warmer months. Our client had this beautiful large extension that had six panes of glass that he wanted tinting before the summer. He said that temperatures inside can get to well over 30 degrees and this is why heat reduction window film is ideal for helping to reduce the temperature and make the extension a very nice place to be in.
He opted for heat reduction window film, specifically Dark Reflective Blue 20 window film.
In the above picture a member of the CHT team can be seen on a raised platform thoroughly cleaning the windows and removing any contaminants. It is amazing what can be cleaned off of an apparently clean window.
Once all of the windows had been thoroughly prepared it was time to make a start on the windows. First off we did the three windows on one side of the extension, as can be seen in the picture below.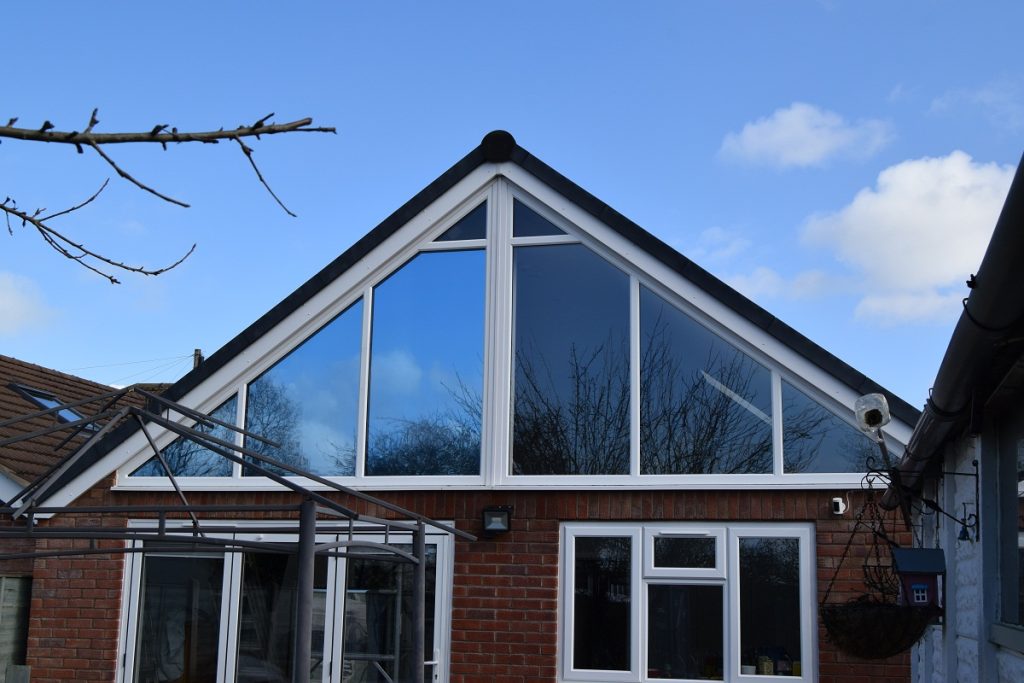 This blue tint looks absolutely superb and it offers two main purposes; firstly it will help to reduce the heat build-up and secondly it offers privacy. Although this particular shade is blue we also install many other shades, including silver, blue, bronze, green, grey, gold, red, purple and even pink!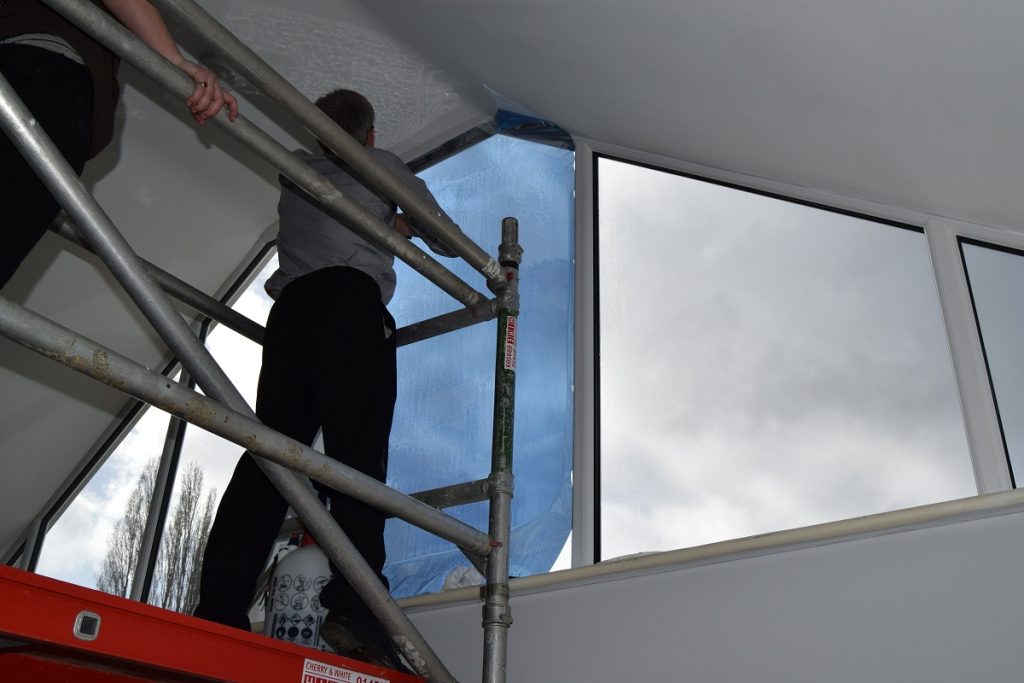 Inside the property the team were having a lot of fun using a raised movable platform to assist them in installing this window film, as can be seen in the picture above.
Below is another angle of the film being applied after the team started working on the second half of the extension.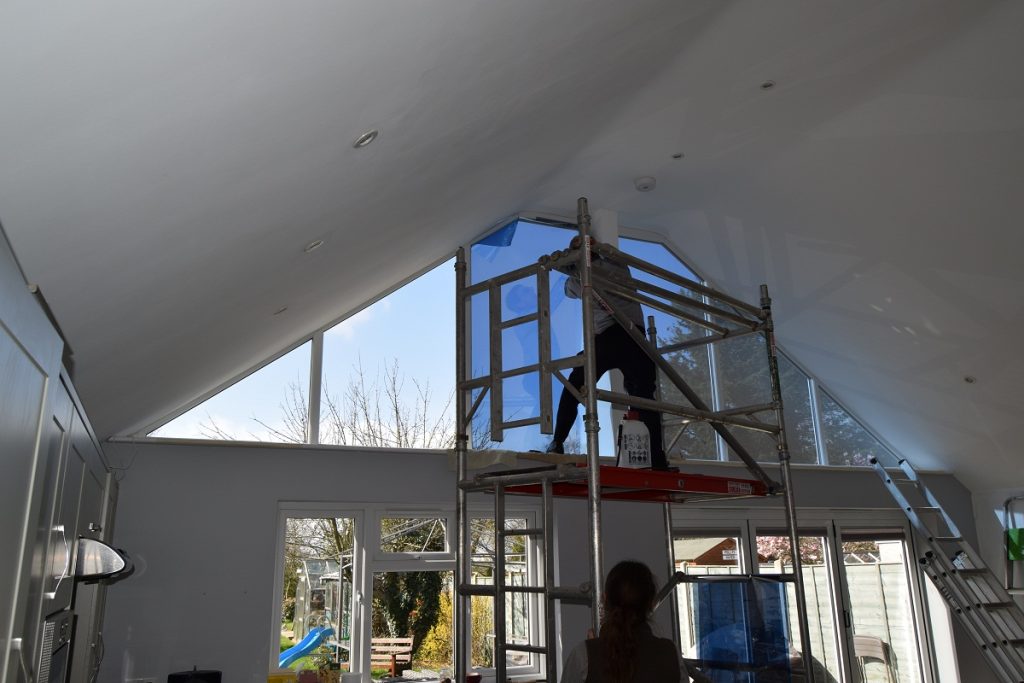 High quality window film that lasts.
We only use the very best quality window film and once applied should be good for at least 10 years. There is an awful lot of window film being sold on eBay and Amazon which is absolute junk. We will always use the best quality available on all of our window film installations.
Below is a close-up shot of how the finish looks when viewed from inside of the property. The blue tint is great and it still allows plenty of natural light in.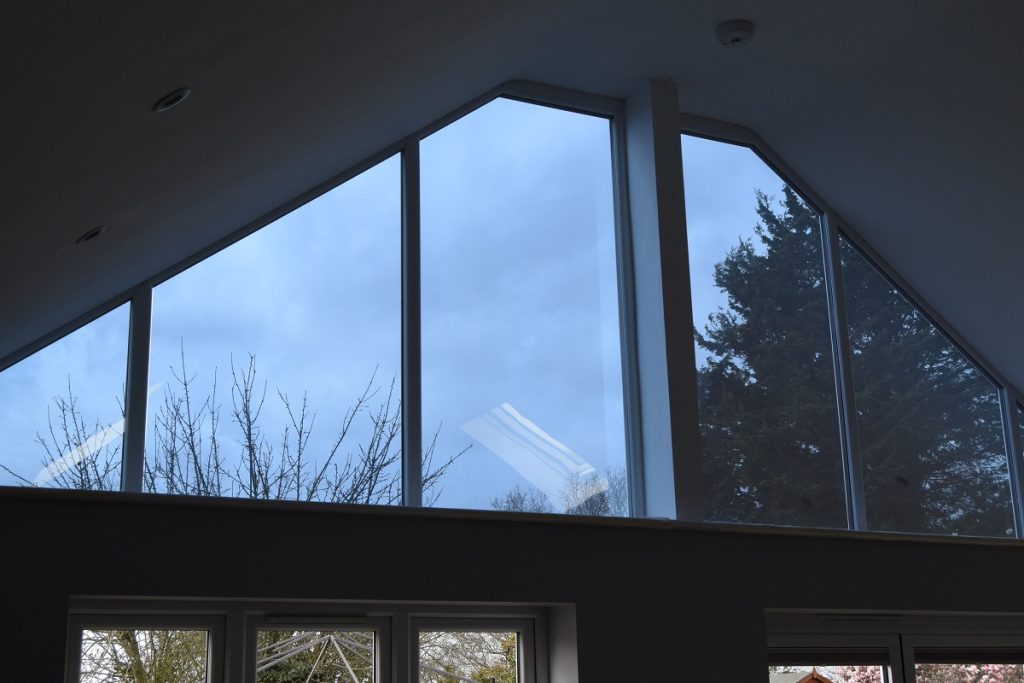 That was heat reduction film fitted to this home extension completed to a very high standard. Below we have included some more pictures of how the property looks when viewed from the outside.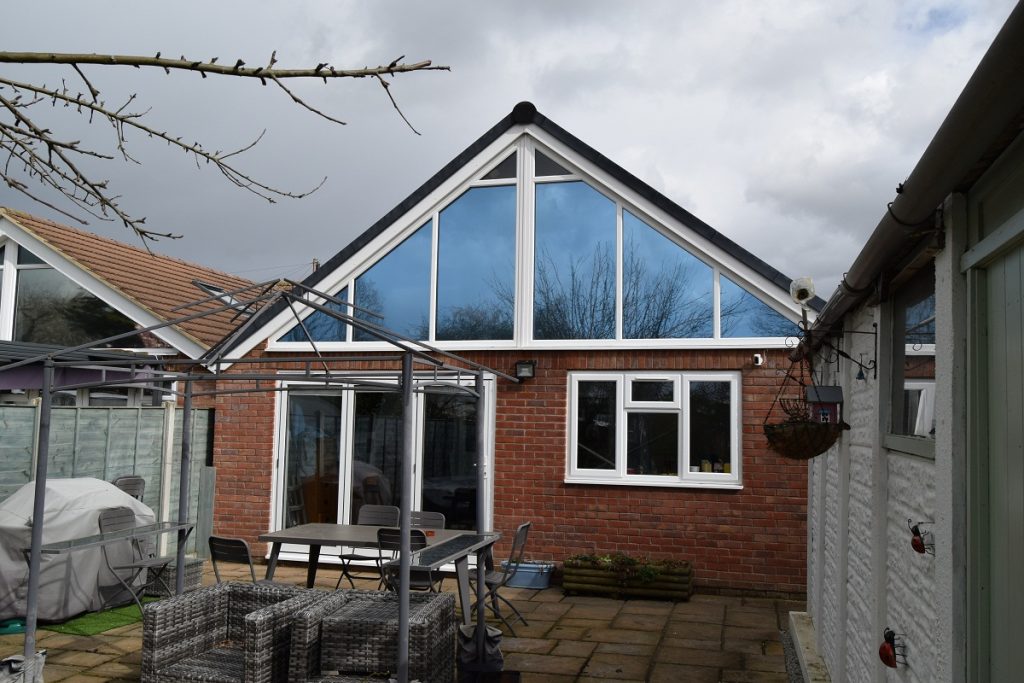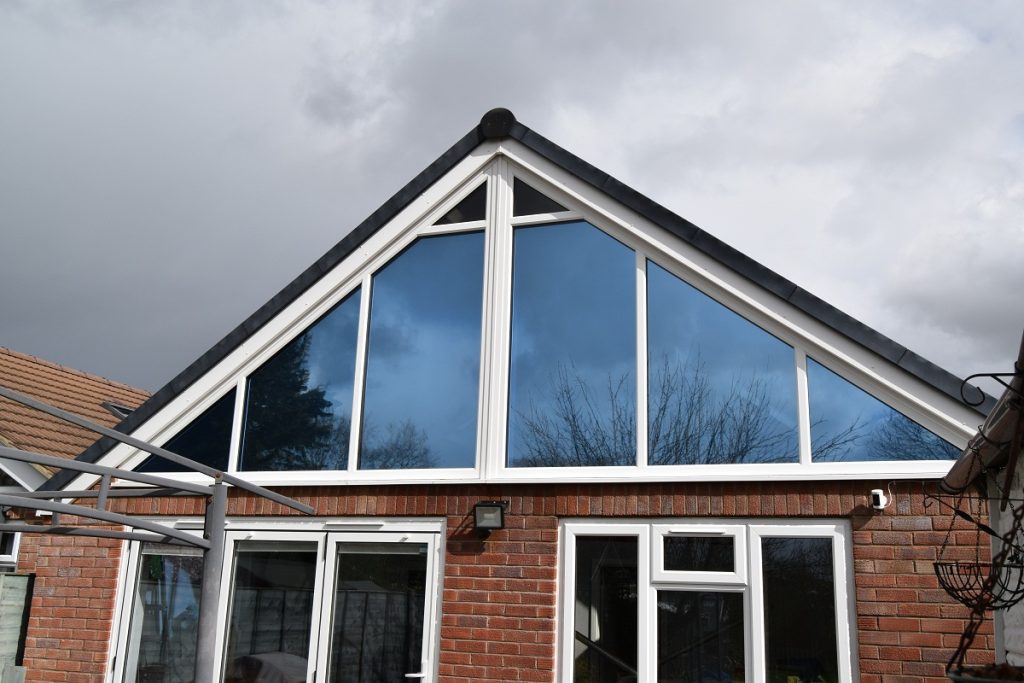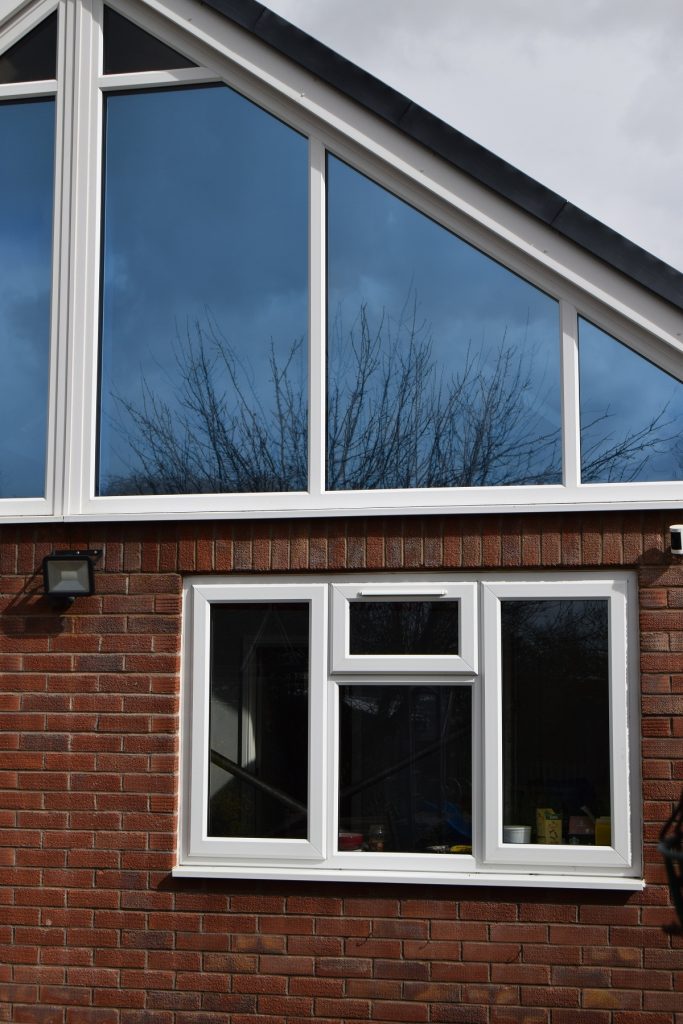 We can help.
Heat reduction window film is just one type of residential window film that Cheltenham Home Tinting can install. We also install UV protection film, privacy window film, energy saving window film, architectural window film along with commercial window film.
Please feel free to contact us for some expert advice. We have a very competent and courteous team here who will happily run you through your options even popping out to meet you at your property for a completely free no-obligation quote.